New Integration: Junip + Drip
We're excited to announce that Drip is officially integrated with Junip!
Drip is a sophisticated marketing automation platform that helps thousands of growing ecommerce brands take their SMS marketing to the next level.
The integration allows you to manage the entire review solicitation process directly from Drip. This helps in maintaining consistent branding, domain/sending authority, and having more flexibility using their workflow builder.
Junip x Drip - How it works
When you integrate Junip & Drip, we start sending four events to Drip:
Junip: Order Fulfilled
Junip: Order Targeted By Campaign
Junip: Review Created
Junip: Incentive rewarded
The first two events help you send review requests to customers. Drip's template builder lets you create personalized review requests for SMS & Email, that use Junip event variables to know who the customer is and what products they bought.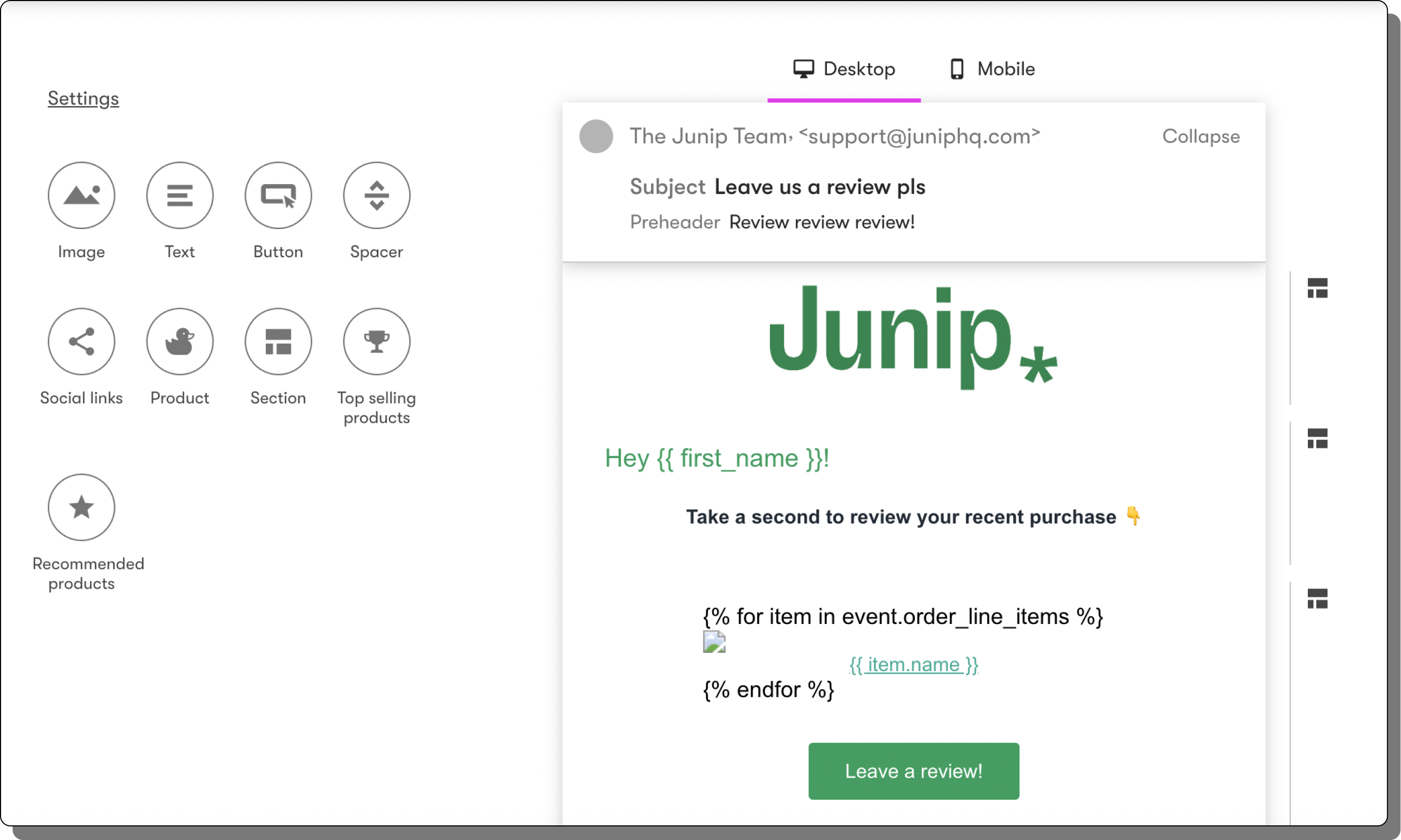 Reviews submitted through your Drip review requests are verified & authentic reviews. This means they can be used across all of the most important channels your customers visit most, including on-site (PDP, homepage, dedicated reviews page), Google Shopping, Rich Snippets & more.
Drip is a multi-channel marketing platform, which means you can build workflows that incorporate Email & SMS messages into your review request flows. Not only does this help you meet your customers where & when they're most likely to leave a review, but you can track customer data and control when customers exit a workflow based on actions they take.
On top of just sending review requests, you can use the review created event to know when a customer has left a review and create a customer tag to build out your customer segments. The incentive rewarded event is another valuable data point that tracks when a customer has received a discount for leaving a review and can be leveraged to target specific segments.
Knowing when a customer has left a review or has used an incentive is a great indicator that they're an active customer and engage with your marketing communications. Being able to define engaged customers who are happy with their purchase is incredibly valuable and lets you foster these relationships to generate repeat customers down the line.
Junip x Drip IRL: Rainier Watch
Rainier Watch, a high-quality mountain gear apparel brand, leverages the Junip & Drip integration to manage all of their marketing communications from one place, including review requests.
Since integrating with Junip, Rainier Watch has seen CTR's of 14.29% on review requests and have nearly doubled their total number of reviews. The biggest plus is that they can now record which customers have left a review and use this data in tandem with other marketing communications to deliver a more personalized experience, with things like special discounts and thank you messages.
This is what David Lindahl, the founder of Rainier Watch, had to say about the results:
I use Drip as a CRM for customers and for all my marketing communications (emails, texts, forms, etc) and so I was super stoked when Junip launched their Drip integration! Now I'm able to seamlessly integrate reviews requests through my Drip workflows and track the data in the same place where everything else related to customers is located. I now have email and text message review requests in Drip that lead to more on brand review requests and higher CTRs!
- David Lindahl, Founder @ Rainier Watch
While having great products that impresses your customers is the first task in getting great product reviews, having review requests integrated alongside all your marketing communications is key. It gives you the opportunity to nurture your most engaged customers and the flexibility of reaching them when & where they're most likely to leave a review.

Overall the Junip - Drip integration has been impressive and the Junip team has been fantastic in supporting this integration. Junip - you get a 5 star review from me!
- David Lindahl, Founder @ Rainier Watch
If you sell products worth talking about, give us a shout & let us show you how we can help. For those already on Junip - you can add the Drip integration here!