New Integration: Junip + Attentive
Attentive is officially integrated with Junip!
Attentive is a leader in personalized, mobile messaging for innovative ecommerce brands, working with the likes of Jones Road Beauty, Art of Tea, The Well & Kinder Beauty.
Using Attentive & Junip together is a critical part in reaching customers when & where they're most likely to review. Over 80% of reviews submitted to Junip are already left on mobile devices, so it's no surprise sending the requests through SMS can lead to stunning results.
Junip x Attentive - How it Works
When you integrate Attentive & Junip, we start sending four journey triggers to Attentive:
Junip: Order Fulfilled
Junip: Order Targeted by Campaign
Junip: Review Created
Junip: Incentive Rewarded
The first two triggers help send review requests. In Attentive's journey builder, you can create an automation to send a review request that includes a customer's personalized, dynamic "made for mobile" review form. This review form knows who the customer is & what products they ordered:
When a customer submits a review, the review is verified - meaning it can be used across all the channels that matter, including on-site (PDP, homepage, dedicated reviews page), Google Shopping, Rich Snippets & more.
Attentive is best used as one of many sending channels alongside the standard emails, on-site requests & others. To coordinate the many ways of gathering reviews, it's as simple as setting up Segments & branching logic in your Attentive Journey. This ensures if a customer submits a review through any channel you're using to request, they won't be pestered elsewhere.
In addition to sending review requests, Review Created events offer an opportunity to build valuable segments, enrich your customer data & send targeted follow ups based on customer sentiment.
Whether it's hitting your happiest customers with a text reminding them about your referral program, offering them an early look at a new collection, or using the data to create custom audiences; positive reviews indicate happy customers who are engaged with your brand. They're a great audience to reach out to.
The "Review Created" event lets you do this!
Attentive x Junip in the wild: Jones Road
Jones Road, the clean beauty brand founded by makeup artist Bobbi Brown, recently started gathering reviews on Junip & included Attentive as part of their holistic review request strategy.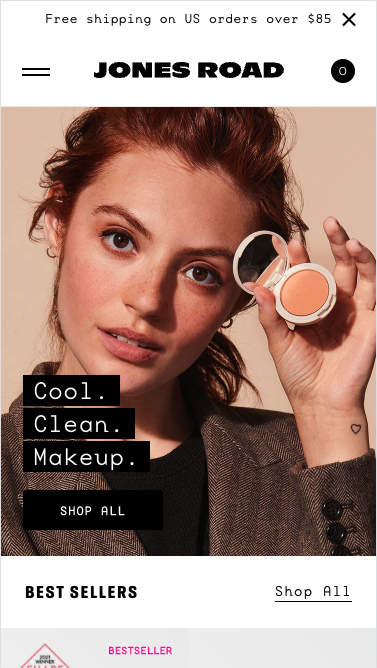 Since moving, total reviews gathered have increased 43%, while customers who chose to include photos with their reviews increased more than 10x. Their team had this to say on the move:
"We've been super impressed with Junip. Having the option to easily monitor review requests in Klaviyo and Attentive has made it easier to target purchasers in their customer journey. Review requests have significantly increased and we couldn't be happier."

- Joanne Coffey, Retention Marketing @ Jones Road
While it may seem overly simplistic, your brand's ability to gather reviews is a function of two basic things:
How strongly customers feel about the product they bought
How easy it is for them to leave a review
With countless awards from the likes of Allure, Shape & Byrdie (as well as endless droves of happy customers), it's clear Jones Road had the first one under control. Junip & Attentive work together to help solve the second - making sure they can meet customers where, when & how they're most likely to review.

If you sell products worth talking about, give us a shout & let us show you how we can help. For those already on Junip - you can add the Attentive integration here!