Review Links, a simple way to prompt customers to leave a review from anywhere
When we first built Junip, we focused a ridiculous amount of time on optimizing the submission & sending components of gathering reviews.
Launching in 2020 gave us one major advantage - it was clear from the start that everything we built had to be made for mobile.
While other review platforms are still fighting to make the transition from desktop, we were able to start from scratch to create a beautiful, progressive, animated reviewing experience that has time & again outperformed the industry on every important metric.
In tandem, world class Email & SMS programs have become table stakes for brands of all sizes - enabled by a host of powerful platforms. So we pioneered a new way of sending review requests through every major marketing automation tool.
Today brands moving to Junip generate on average over 4x more photo & video reviews compared with their previous platform, alongside our industry best 10% submission rate. But we're far from the end state.
Today we're sharing the next step in the journey with Review Links. A simple way to prompt customers to leave a review, anywhere in their experience with your brand.
---
The best products across consumer industries are already collecting reviews on Junip.
OLIPOP with a new kind of soda, Soft Services fixing skin care for your body, Graza making olive oil that's meant to be squeezed, they're all gathering amazing content from customers… and the data has shown us Junip really is the best way they could be gathering reviews!
But nevertheless, my Uber driver from last Friday might still be collecting ratings at a higher clip. I certainly don't feel all that strongly about my Uber driver (sorry sir), but it's just easy to leave a review where & when I'm most likely to do so. Uber never sent me a review request, they simply prompted me to leave one next time I was in the app.
We believe it should be easy for every brand online to have the same experience - prompting reviews wherever it makes sense.
How can I add Review Links?
Just like Uber, there are tons of places your customers are visiting post purchase where you should be able to prompt them to leave a review. Review Links enable that! Allowing you to prompt reviews anywhere & everywhere it makes sense, instead of always having to wait for an email or text.
In the beta, we've already seen Review Links included as buttons on the account page, subscription portal & tracking page, as a QR code in packaging, or as a link customer service reps offer to satisfied customers in chat.
All three of these options are easy to deploy in one-click from the Review Links section in Admin.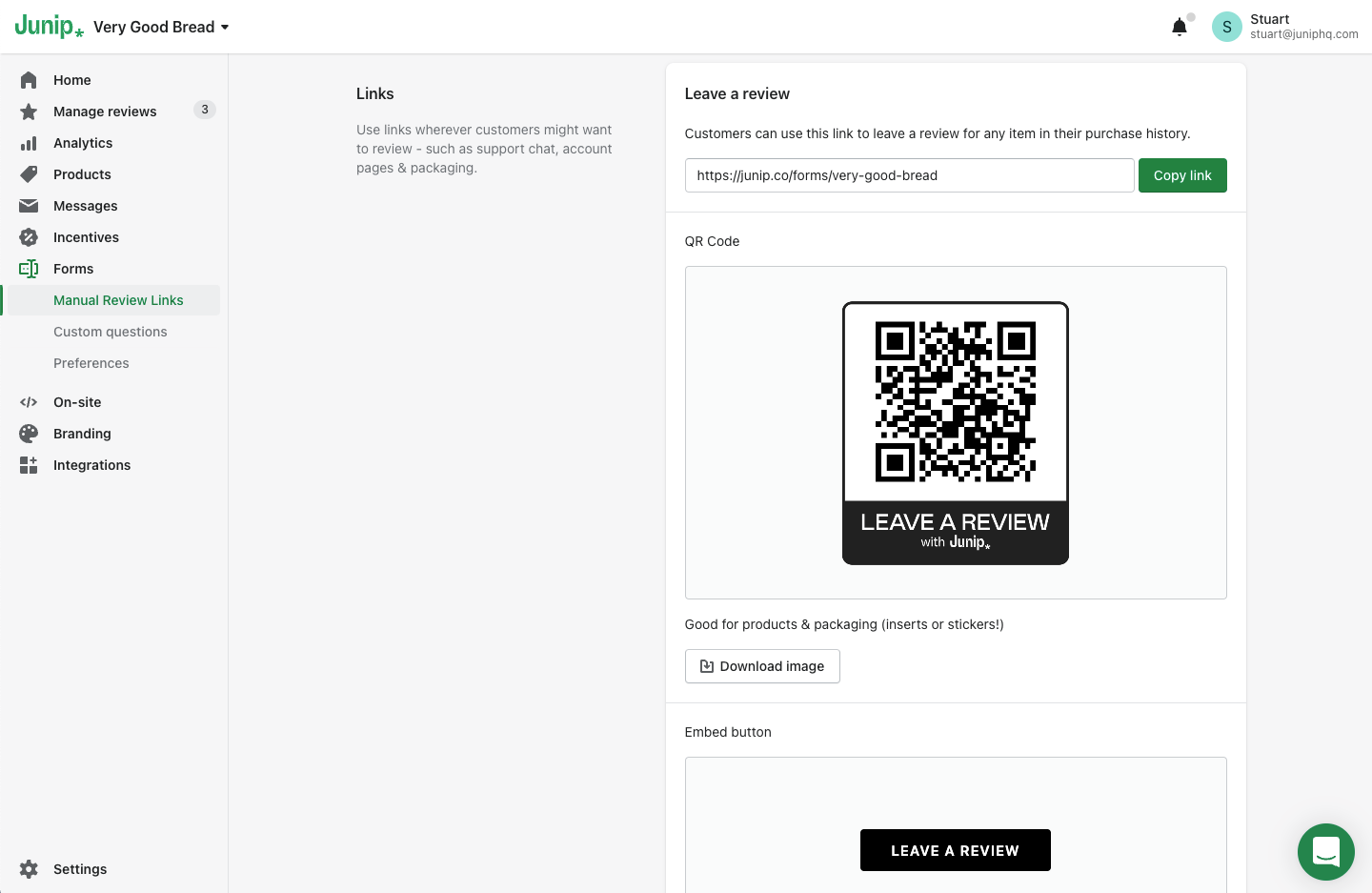 As a customer, submitting reviews using links is even easier.
Regardless of where the customer clicks from, they'll be asked to quickly confirm their email address (you can pre-fill this information to reduce the friction).
Once confirmed, they'll see all the previously purchased products they're able to submit reviews for on your store: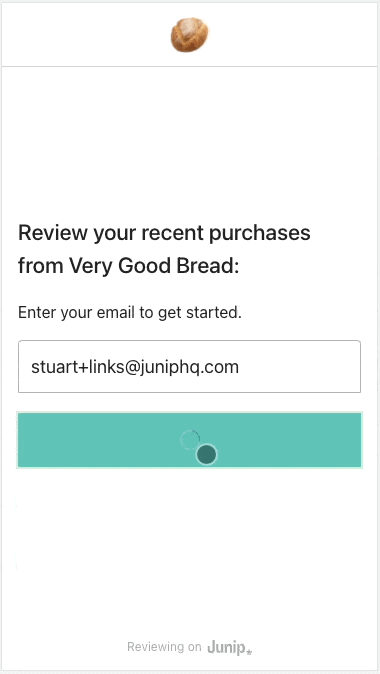 Too daunting? Integrations can help...
We get it - you're busy. And the idea of fighting with your packaging supplier to add a QR code, or your subscription portal to add another button is a challenge you just simply don't have the time for. That's why we're working with integration partners to make it even easier to leverage Review Links.
We're proud to be partnering with Checkout Promotions, Smartrr, Upscribe, Wonderment & Fairing on the launch, with many more to come. All of these partners will support Review Links in the coming month so you can gather reviews across every part of your customer experience.
As our launch partners go live with these integrations (and more come on board), we'll be rolling out posts & education on how your brand can put them to work.
Our promise
Earlier this year the team at Junip went through an exercise to refresh our brand. Visually, we couldn't be more thrilled with how it turned out. Perhaps more important though was our work to clarify exactly what brands want from reviews & how we fit into that world.
Junip is never going to have the longest list of features, but we have a simple promise every brand can hold us to:
We help you gather more reviews & display them everywhere that matters.
We're excited about Review Links & how they fit into this promise, with plenty more to come in the following weeks. If you want to learn more about how Junip can work with your brand, install for free here or book a demo now.
For those already on Junip - you can get started with Review Links in Admin, today.