Flows: A New Automation Engine to Gather More Reviews
We're excited to share Flows, a new automation engine within Junip to help you get closer to where & when customers are most likely to review.
Flows is live today for all brands using Junip.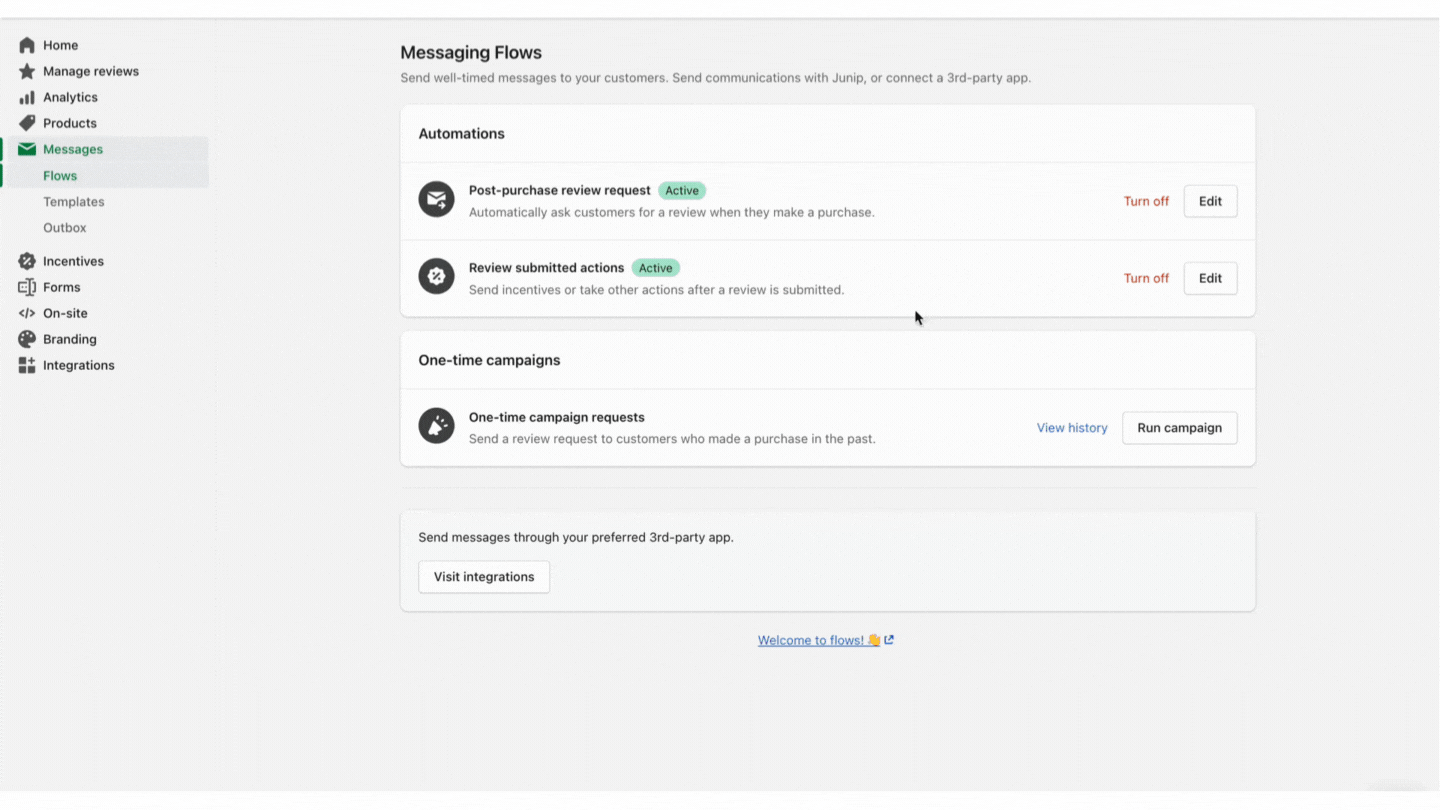 Flows are a new way to manage the process of both gathering reviews & creating follow up actions after they've been submitted. Based on a "trigger → action" model, you'll find Flows in Junip work much the same as you've likely experienced in tools like Zapier, Shopify Flow & Alloy.
To send review requests you set a trigger (order fulfilled, order delivered), conditions (how long to wait) and then any number of actions (email from Junip, send an event to Klaviyo, Postscript, Attentive etc).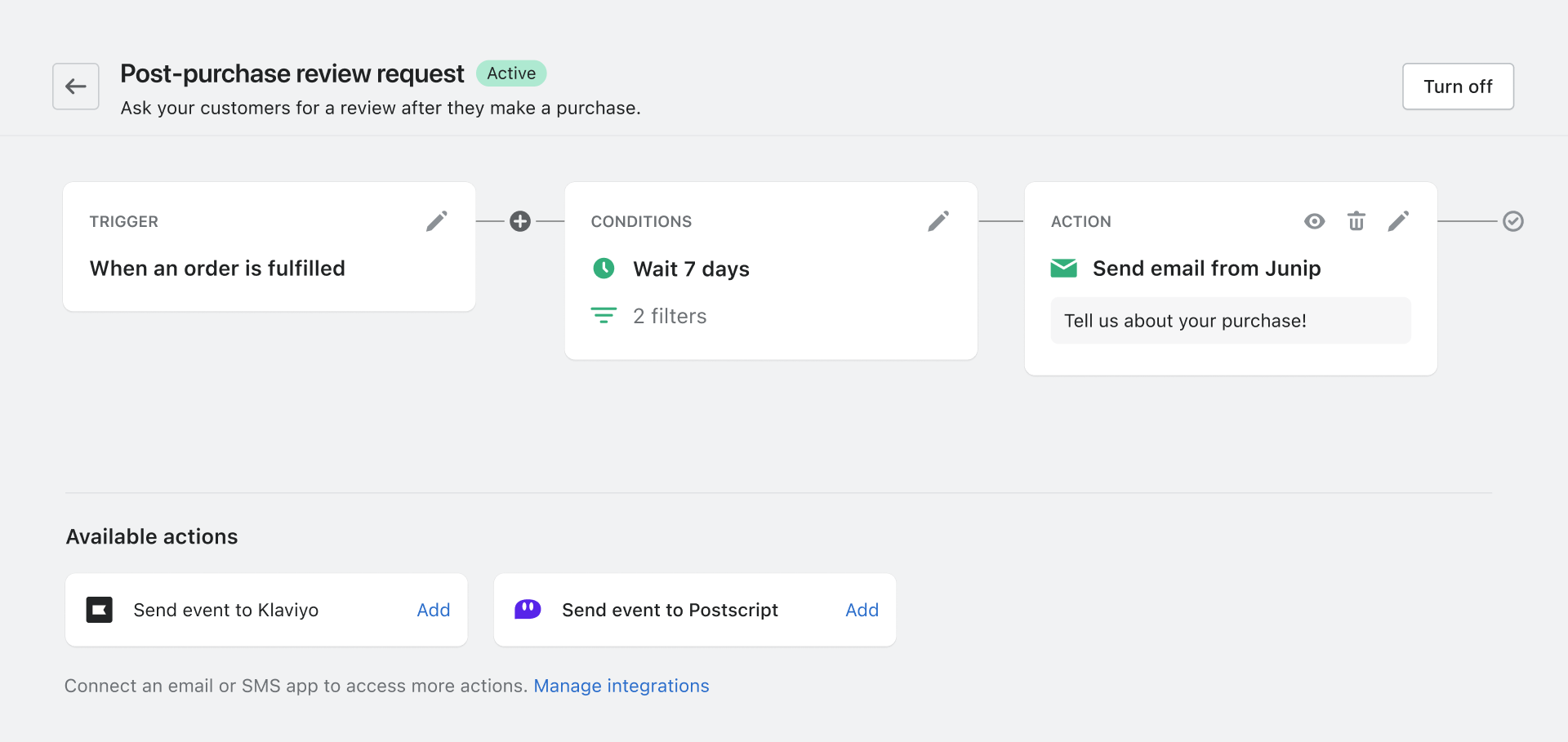 Backing up though… why did we have to build a full fledged automation engine inside our reviews tool?
---
It's no question commerce has gotten increasingly complex over the past few years and communication plays a big part in that. Talking to customers today requires more channels than ever (email, text, direct mail, dms etc).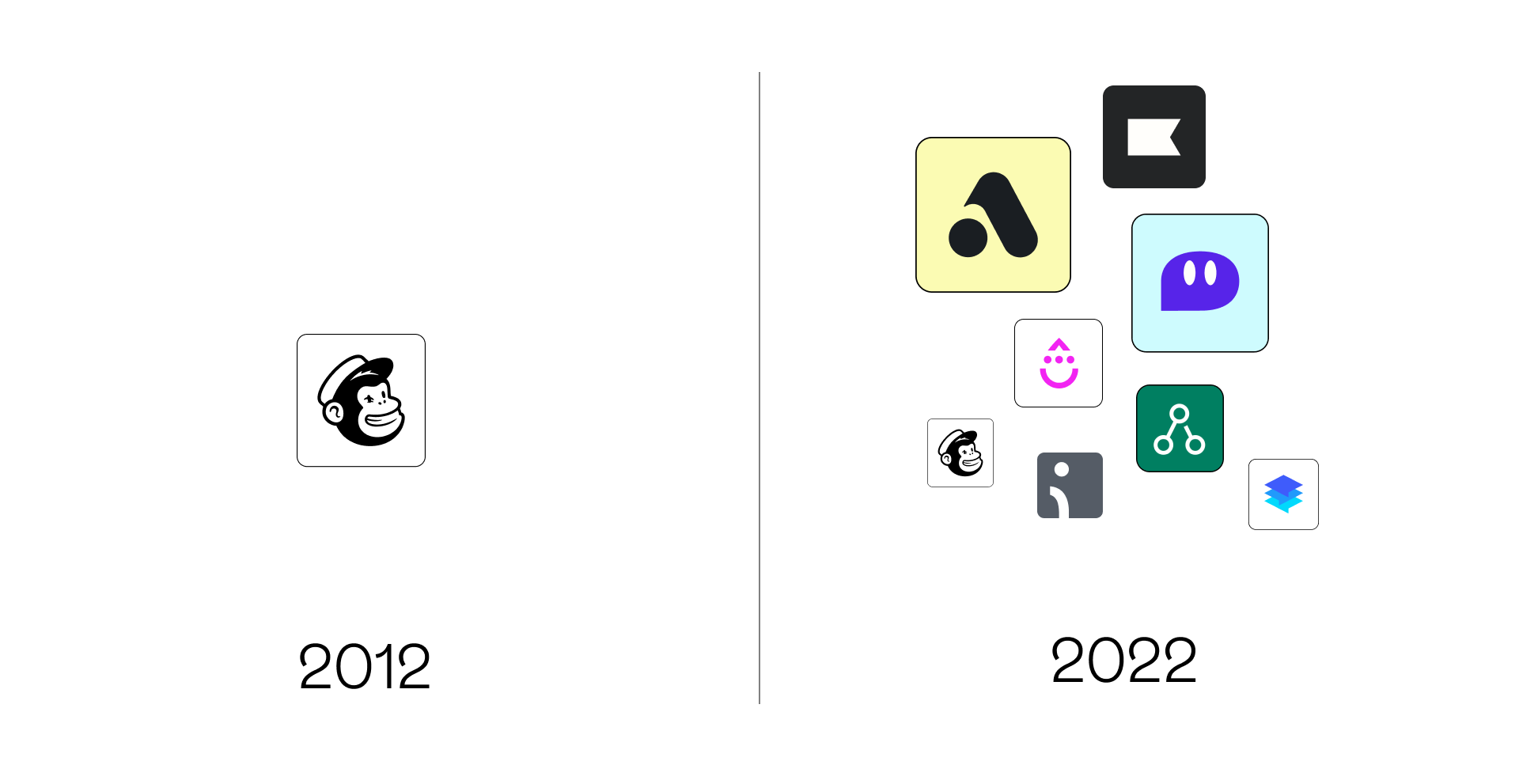 As we built Junip, we knew we would need to pioneer a change in reviews to adjust to this new environment.
We started by making it possible to send dynamic, personalized review requests not just from Junip, but also from any major marketing automation platform a brand could be using such as Attentive, Postscript, Klaviyo & Omnisend. We then followed it with Review Links, allowing you to hit touch points like packaging, customer service & subscription portals.
While these were huge steps forward in helping optimize communication with customers, we probably still didn't appreciate just how complex things would get for brands in this new world.
We see brands change from needing to send review request emails with Junip to sending from their ESP, adding an  new SMS platform, changing from an all-in-one solution to dedicated email & SMS tools, adding a package tracking solution like Wonderment… it's tough to keep up with all the moving pieces.
We needed to help brands visualize how everything fits together across multiple tools, while giving them the power to make changes when the rest of their technology stack changes.
Flows solves both of these.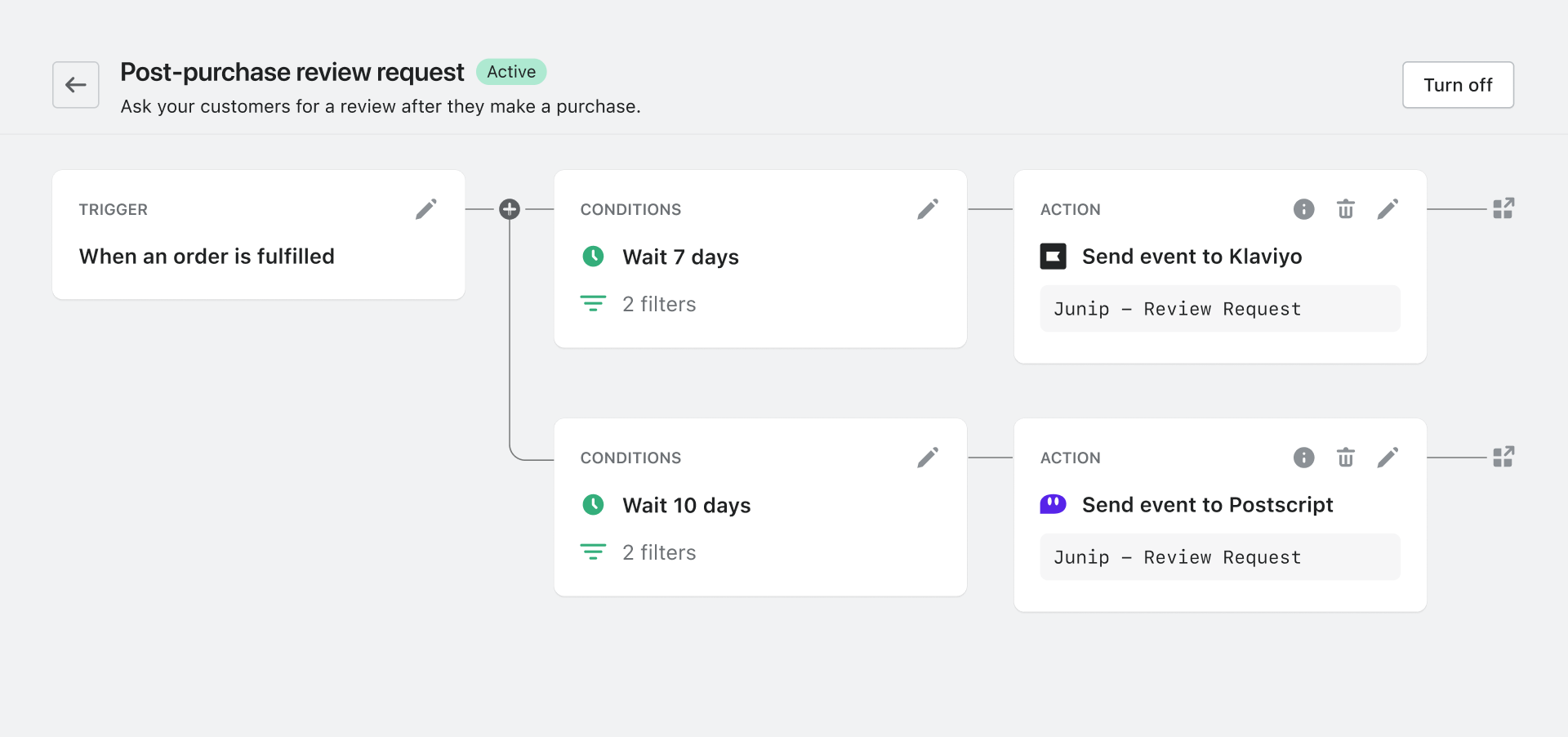 When you add a new package tracking solution to your tech stack, you might to change your review flow to be triggered off of an order being delivered instead of fulfilled. Now that's as easy as a couple of clicks: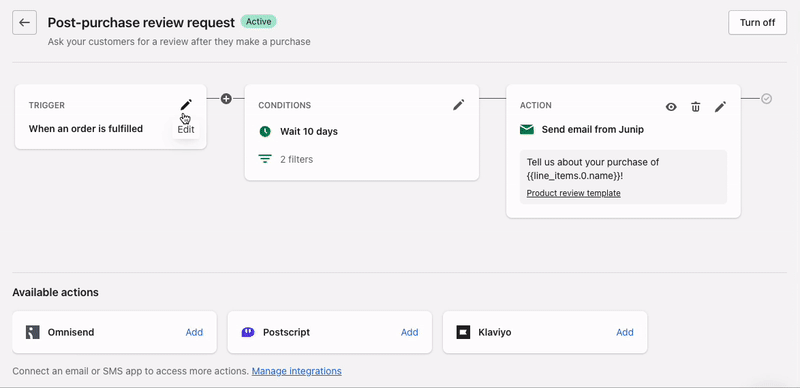 When you're trying to optimize your review requests & want more control within a tool like Klaviyo, you're able to edit or add actions… with a couple of clicks: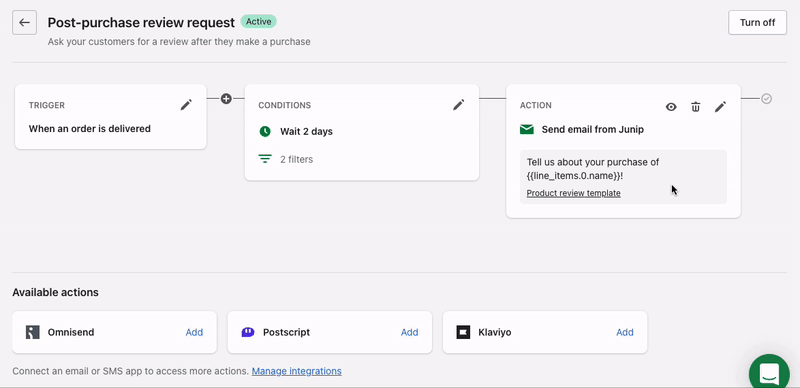 When you start using a new tool for SMS & want to add that as a step in your review request flow, you can do so again… in a few clicks 🙂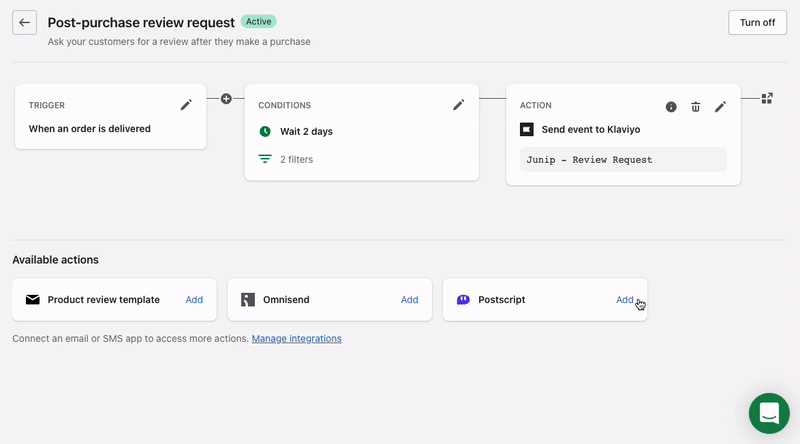 Flows is live in the Junip Admin today, for all new & existing users. Moving forward you can expect to see us expand to include more integrations & functionality across both major flow types (review requests & review submitted).
If you want to switch to Junip to take advantage of Flows grab some time for demo, or install here.