Displaying Your Product Reviews With Google Shopping
Google Shopping is the crème de la crème when it comes to reaching relevant customers and driving qualified traffic to your website. At its core, Google Shopping is a comparison platform that leverages product information to display product listings within Google search results.
Why You Need Google Shopping
It has grown quickly in recent years and has become one of the largest distribution channels for online retailers. Google Shopping ads have been proven to increase retailer's conversion rates by 30% as opposed to text ads, and across all online retail in the US, Google Shopping ads win 85.3% of all ad clicks.
"Two decades after launching its shopping vertical, and many false starts along the way, the search engine giant has become a force in how people shop for clothes" - Cathleen Chen, Business of Fashion
In short, Google Shopping is the catapult to getting your products in front of customers who already know what they're looking for and are ready to buy. The challenge now becomes - how do you make your products stand out?
In addition to product listings, Google Shopping uses a Product Rating system to aggregate reviews from across the internet, including:
Merchants
Review aggregators
Review sites
Google users
Each review and star rating from every location is averaged into the final product rating represented by 5 stars on a product listing. Product listings with lots of reviews and a high product rating stand out among the competing products, so it's important to have every review collected added to Google's count.
So, how can you make sure all of your product reviews for your ecommerce store are being used in Google's Product Ratings? Well, there are a few ways to go about it.
3 Ways to get Product Reviews on Google Shopping:
1. Google Customer Reviews - basic, but it works
Google Customer Reviews is a way for brands listing products with Google Shopping to solicit reviews from their customers after purchase. If customers opt-in to receive emails from you at checkout, Google will send an email asking customers to rate their purchase in the following days. While this does alleviate the task of manually collecting reviews, it also gives you no control over how your customer reviews are managed and collected.
Another caveat: you can't add Google Customer Reviews to your Shopify store or leverage them in search results to boost SEO. By only asking for Google Customer Reviews, you're restricting the reach of your reviews and wasting valuable review requests.
2. Uploading your own product rating data into Google Merchant Center - complicated & sometimes works
Another way to send your product rating information to Google is by manually uploading it yourself to your product feed in Google's Merchant Center. This option gives you some control over how your reviews are collected and managed, however, it requires considerable effort and can be very complex.
First, you must apply to become a Google Merchant and have at least 50 reviews to submit a Product Rating Interest Form
After becoming a Google Merchant, you must process all of your existing reviews into XML format - this is the only format Google's product feed accepts
Once your review feed is submitted, this does not guarantee your reviews will be displayed on Google. They must be reviewed to ensure they follow Google's policies and are deemed relevant to the product listing by Google
If your reviews are accepted, they'll be displayed on Google product listings. If not, you will have to start the process again and ensure your reviews are valid and properly formatted
To continue aggregating the reviews you collect with Google Product Ratings, you must repeat this process once a month

The biggest issue is this: at any point in time, Google can choose to reject your product review feed and provide no feedback. You'll have to start from scratch and cross your fingers it works the next time around.
3. Using an approved third-party aggregator - easy & works every time
The best and most effective way to have your product rating data displayed with Google is by working with an approved third-party reviews aggregator. Official Google partners (like Junip), do all the heavy lifting by sending your product reviews to Google. The advantage of this is that it allows you to have full autonomy with how your reviews are collected, moderated, managed, and displayed - minus the hassle of uploading them yourself.
For example, if you're using Junip - it takes 3 steps to syndicate your reviews with Google Product Ratings:
Gather reviews from your customers (or upload from your previous review app)
Within your Junip admin, enable the 'Push product reviews to Google' option
Once this is enabled, it can take a few weeks for your reviews to show up on Google Product ratings, after this it's a fully automated system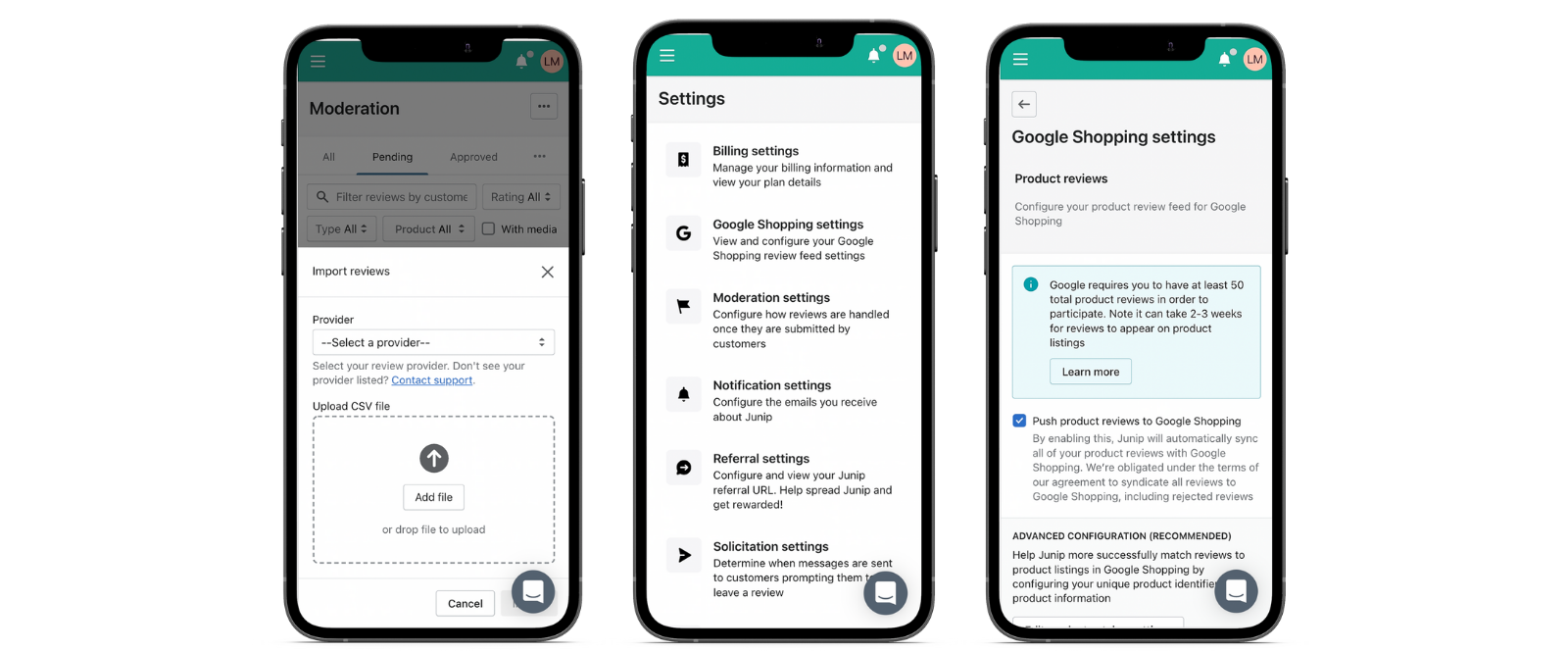 Tip: You'll want to manage your unique product identifiers for best results (especially if you have a complex review feed) - Junip gives you the tools to do this!
Other benefits of using a third-party aggregator like Junip:
Automated email campaigns that will engage previous customers to leave reviews
Uses product traits and custom questions to get more detailed reviews from your customers
Post-purchase review request emails increase conversion and help you collect more reviews
Automatically display your reviews on Google Shopping
If you're already using Google Shopping to list your products and are struggling with Google Product Ratings, check out Junip's guide to Google Shopping to see how you can extend the reach of your reviews!
Tired of having to manually upload reviews to your Google Merchant Center account? Sign-up with Junip to have all your product reviews automatically displayed on Google Shopping without having to lift a finger! If you have any questions about the migration or how it all works, reach out to sales@juniphq.com
Make the Move
Join 3,000+ of the fastest growing brands like Jones Road Beauty, Kotn, & Olipop who use Junip to collect more reviews and display them everywhere that matters!
Get started