New Integration: Junip x Kno
We're excited to share that we now have an official integration with Kno Commerce!
Brands on Shopify like Aloha Collection, OLIPOP, Jambys, and Jones Road Beauty, use Kno's pre and post-purchase surveys to collect customer data and turn it into actionable insights to get a deeper understanding of their customers.
With Junip and Kno together, get more reviews from your customers by asking them to leave a review on the order confirmation page using Kno's post-purchase surveys.
Collecting Reviews With Junip
Junip gives you the tools to collect reviews from your customers with our automated post purchase review requests. While over 90% of all reviews are collected this way, our goal is to make it as convenient as possible for your customers to leave a review at any point along their post-purchase journey.
The way we do this is with our Review Links - a dedicated URL for your brand that allows customers to review any of their previous purchases.
Using Junip x Kno To Collect Reviews
One of the best ways to use Review Links is in places that you already engage with customers.
This is why Kno's integration with Junip is so compelling. Brands can use Kno to prompt customers to leave a review right after they've placed an order. When creating the survey, you'll want to set the audience to Returning Customers so new customers aren't asked to leave a review before they tried the product.
If the customer selects 'Yes' on the survey, they will see a 'Leave a Review' button that uses your store's Review Link.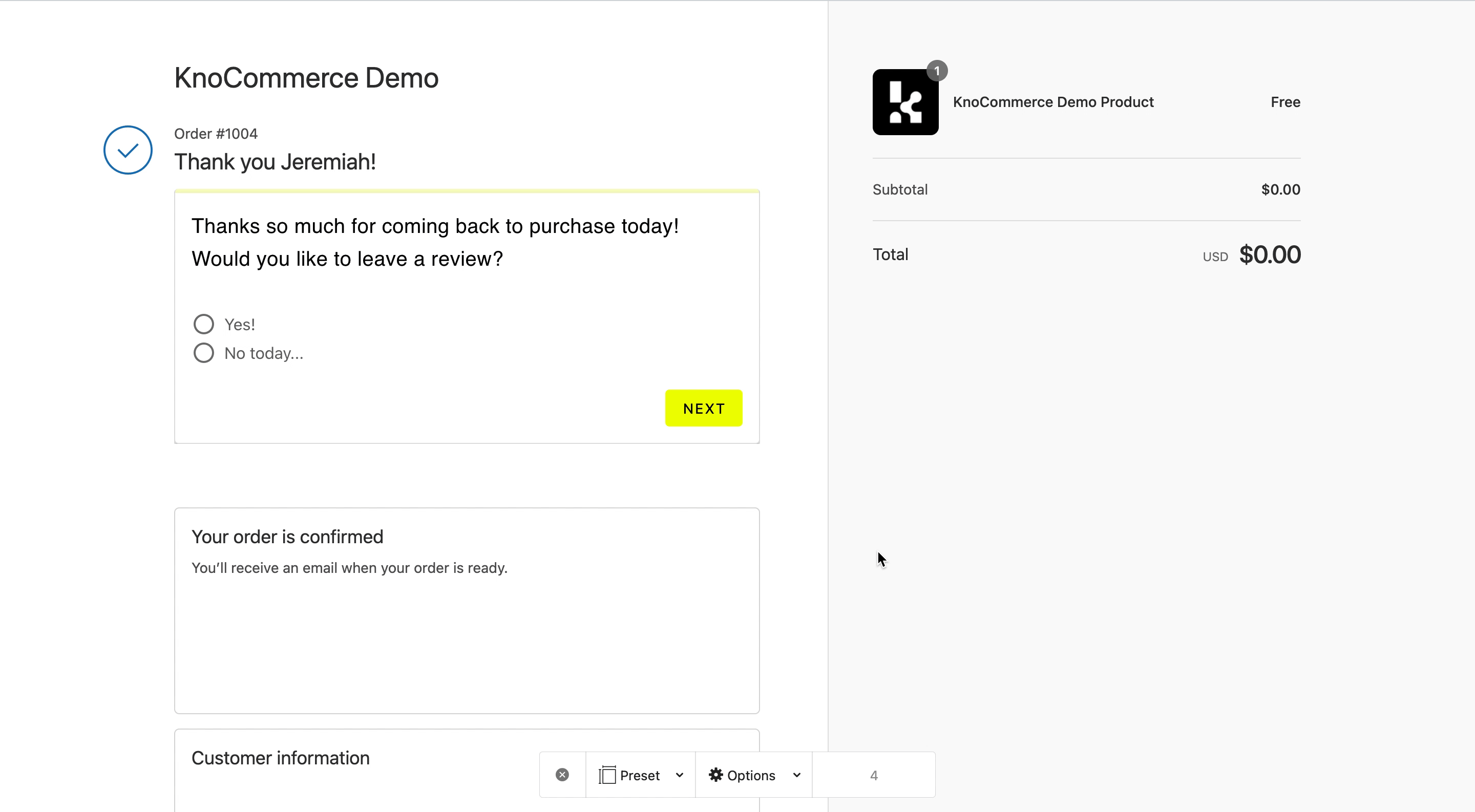 That's it! Returning customers now have an opportunity to leave a review on their previous purchase when your brand is already top of mind. As a result, this drives more reviews from customers that already had a positive experience with your brand.
Using Review Data to Gather Actionable Insights
When we think of reviews, we know how helpful they are for customers. They can also be equally as helpful for brands. Reviews have lots of valuable customer feedback that you can use to turn into actionable insights about future product improvements, marketing tactics, and even product positioning.

We teamed up with the team at Kno to host an AMA style webinar about turning customer feedback into actionable insights. You can watch the replay below!
Getting Started
If you want to get more reviews from your returning customers and gain valuable insights, use Kno's post-purchase surveys on your order confirmation page.
Need some help setting up the integration? Give us a shout and we'll be happy to help! For those already on Junip & Kno - you can find the details to implement the integration here.