Siblings Increases Review Submissions 729% After Switching to Junip
Candles serve many purposes, from brightening a room to creating a mood through a carefully selected scent. But traditionally-made candles have a significant environmental impact due to their use of petroleum byproducts like paraffin and wasteful glass containers. These challenges inspired Eva Eckerblad and the team at Siblings to create unique refillable candles that are sustainable, beautiful, and bring luxury-level scents to any room.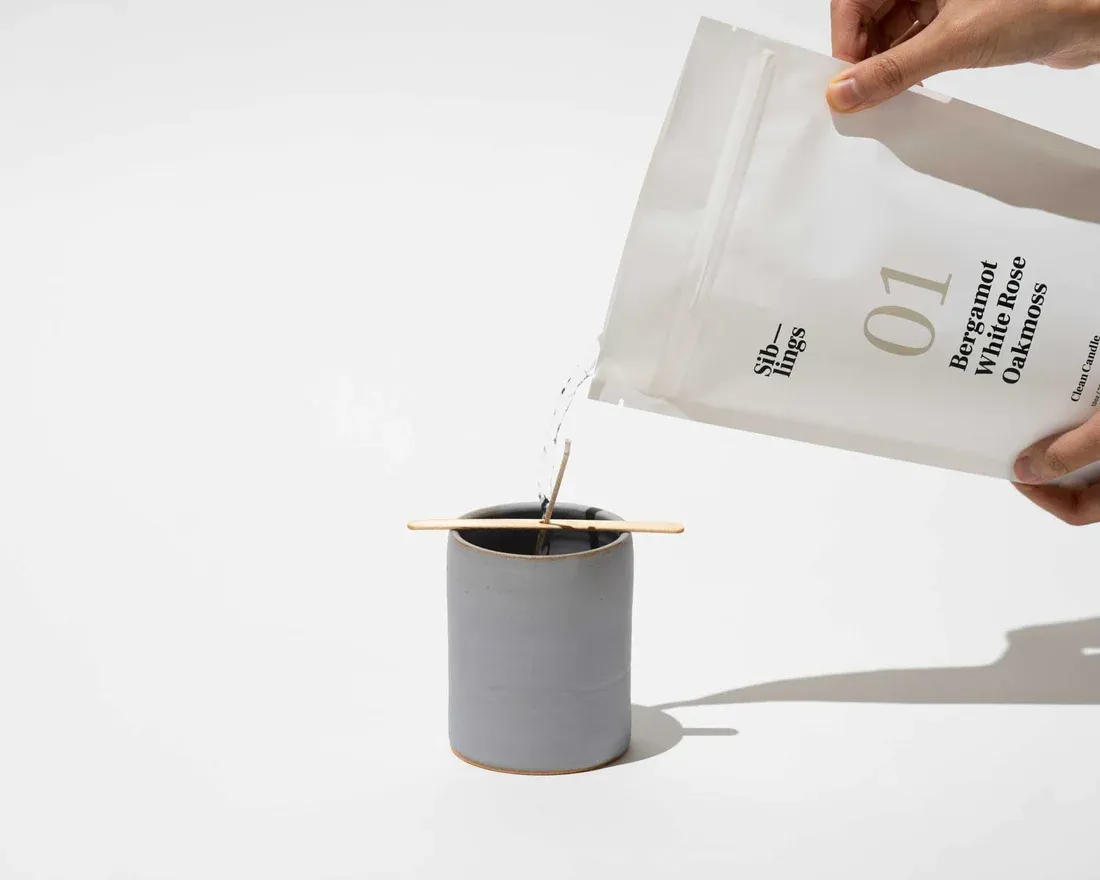 Each candle comes in compostable packaging. Once the customer's order is delivered, they simply have to microwave the package for two minutes and pour it into their favourite container. A few hours later, they have a beautiful and aromatic candle without the waste and chemicals of mass-produced candles.
The problem
Successfully introducing an innovative new product takes a lot of excellent customer education. Candles have been around for over 5,000 years, and people know how they work. Since Siblings' candles involved the customer making the candle at home, Eckerblad and the team knew that social proof, such as reviews, would be critical to demonstrating how its candles worked and building trust.
As orders came in, Siblings quickly hit the monthly review request limit of its Yotpo plan. Eckerblad looked at moving up to a higher tier, but she said the pricing didn't make sense for the experience being delivered.
"We definitely noticed that reviews were helpful and we knew they were going to be a crucial part of the site experience. It was something that we didn't want to just cap off each month. Yotpo stopped making sense for us and we didn't feel like there was anything very special about the experience," Eckerblad said.
The migration
Knowing the importance of reviews for their brand, the team searched for a new review platform. Eckerblad said it was Sibling's co-founder David Bronkie who discovered Junip during the search. Once they decided to make the switch, she said the process was quick and easy.
"I was the one who went through the process of getting onboarded and getting Junip installed. The team was really helpful," Eckerblad said.
Eckerblad worked with our onboarding team to bring a tailored look and feel to their on-site review widgets and review request templates. Siblings was already using Klaviyo and Postscript for their marketing, and they were able to leverage Junip's integrations with both platforms to seamlessly integrate review requests alongside the rest of their marketing communications
"Everything looks exactly how we wanted. The experience is easy for customers to actually complete a review. We recently added custom questions where we can get more details in the review on top of stars and comments." -Eckerblad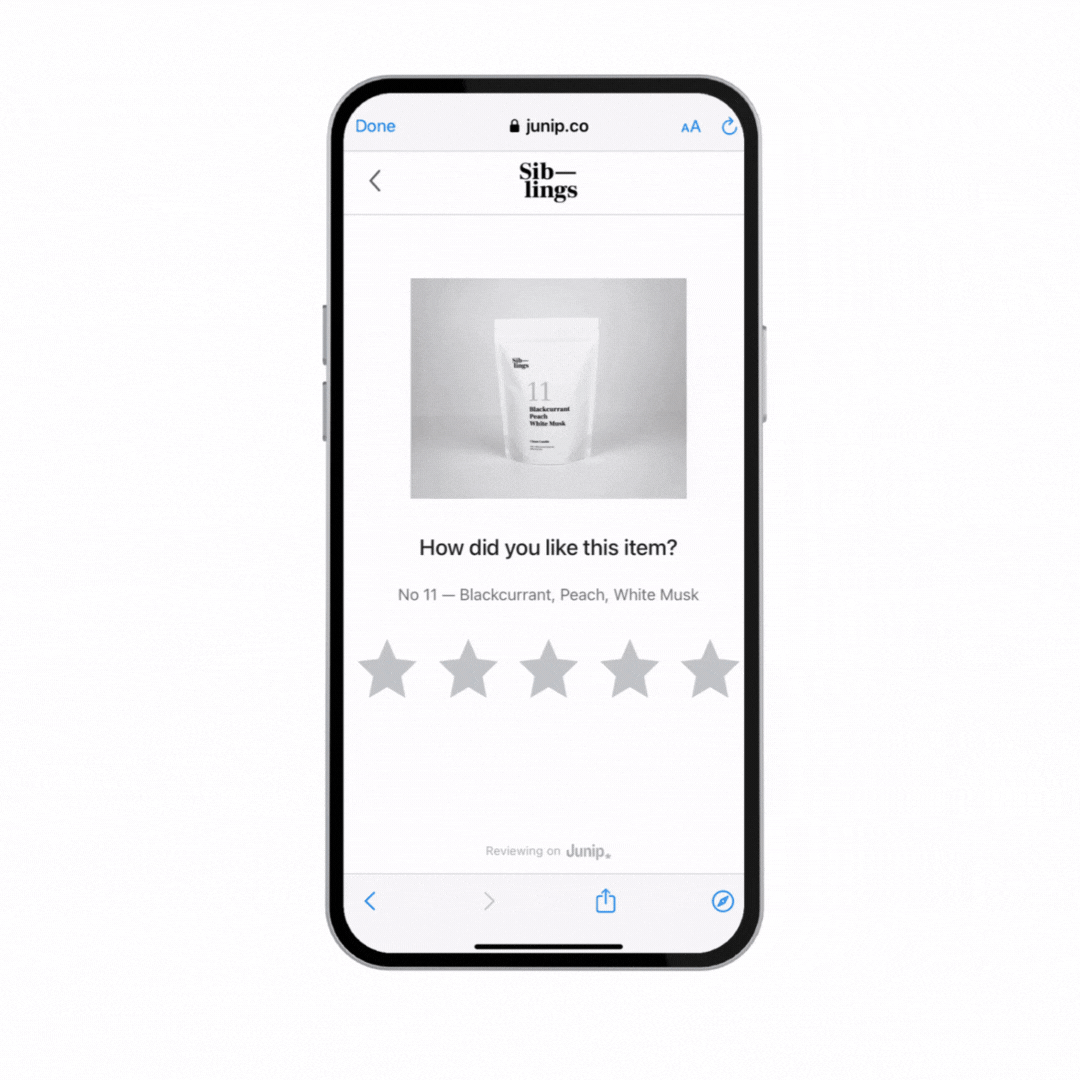 In addition to email and SMS review requests, Siblings uses QR codes with Junip's Review Link to prompt customers to write a review when it's most convenient for them. They include the QR code on the product packaging since customers typically have it near them while making their candles.
"It's on the backside of the packaging where we keep all the information about how to make the candle and the ingredients. You're making it and you can scan the QR code to bring up the review form and snap a picture of what you just made. The flow is super easy," Eckerblad said.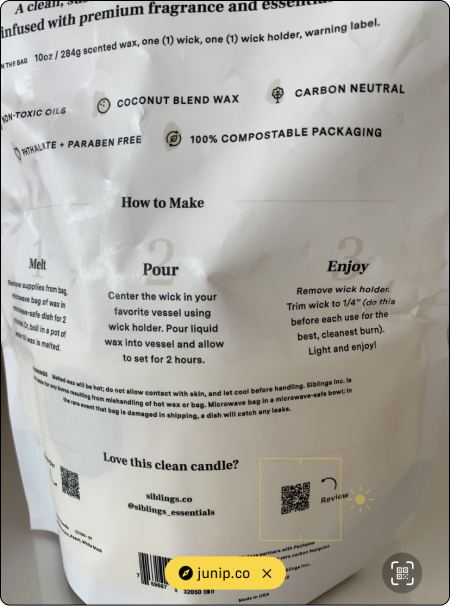 The results
Buying a candle online for the first time is always a risk for a customer since they haven't had the opportunity to experience its scent. Siblings has the added hurdle of an entirely new customer experience with making the candle at home.
Customer education is vital to overcoming both of these challenges. Eckerblad said the media-rich reviews they are getting with Junip are helping them convert new customers and build brand loyalty with existing ones.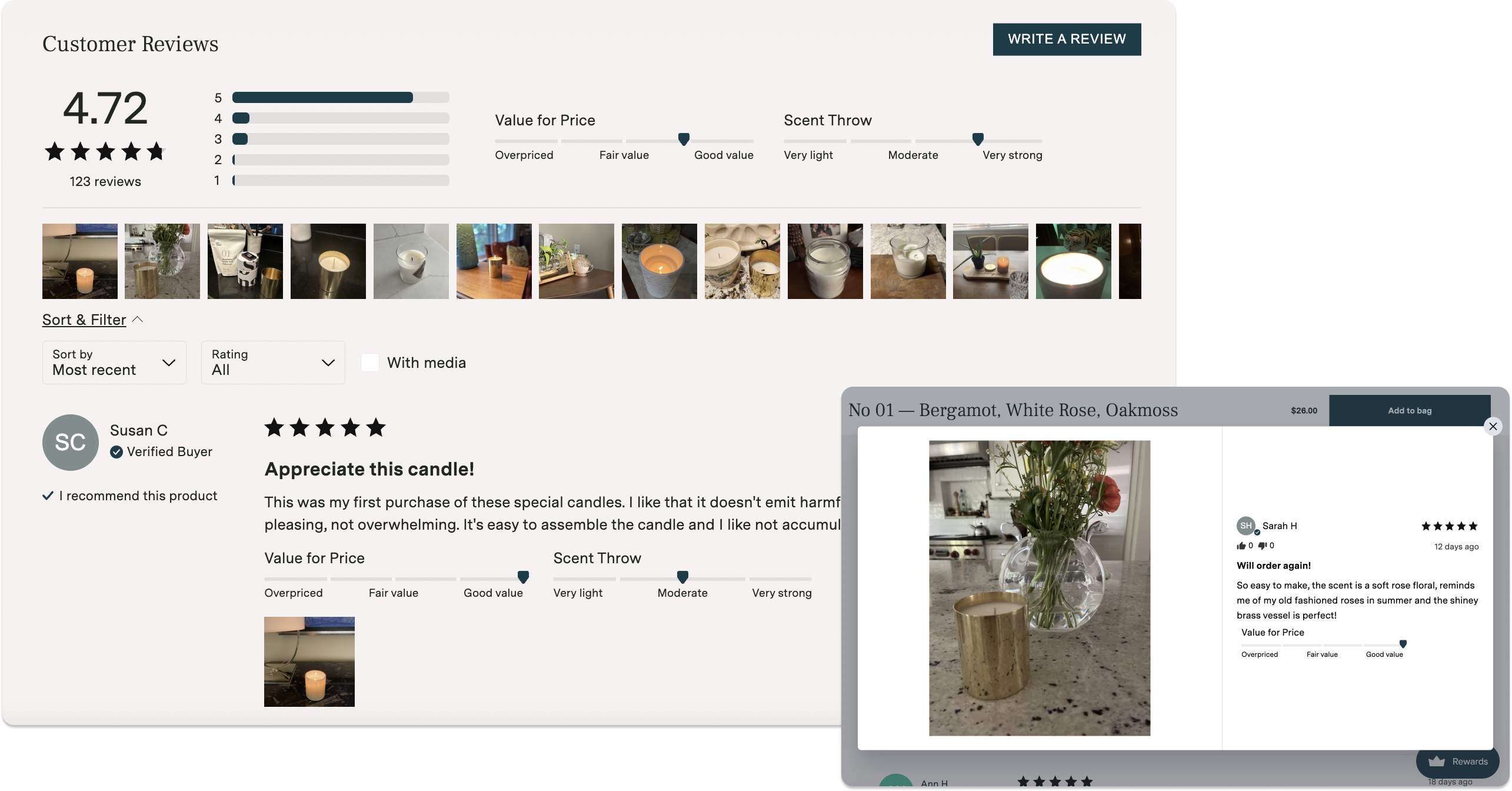 Eckerblad said the ability to collect reviews with media is just one of the benefits of using Junip. They also use custom questions to get more detailed feedback on how customers feel about scents and the candle-making process. She added that they wouldn't be able to get the volume of reviews without Junip's effortless mobile forms.
"We've spent a lot of time on product education and bringing in features like Junip into the site to help people understand more about the product. People can read about the scent in a way that we're not necessarily writing about it. They get different perspectives on them—it's a well-rounded idea of what it could smell like," she said...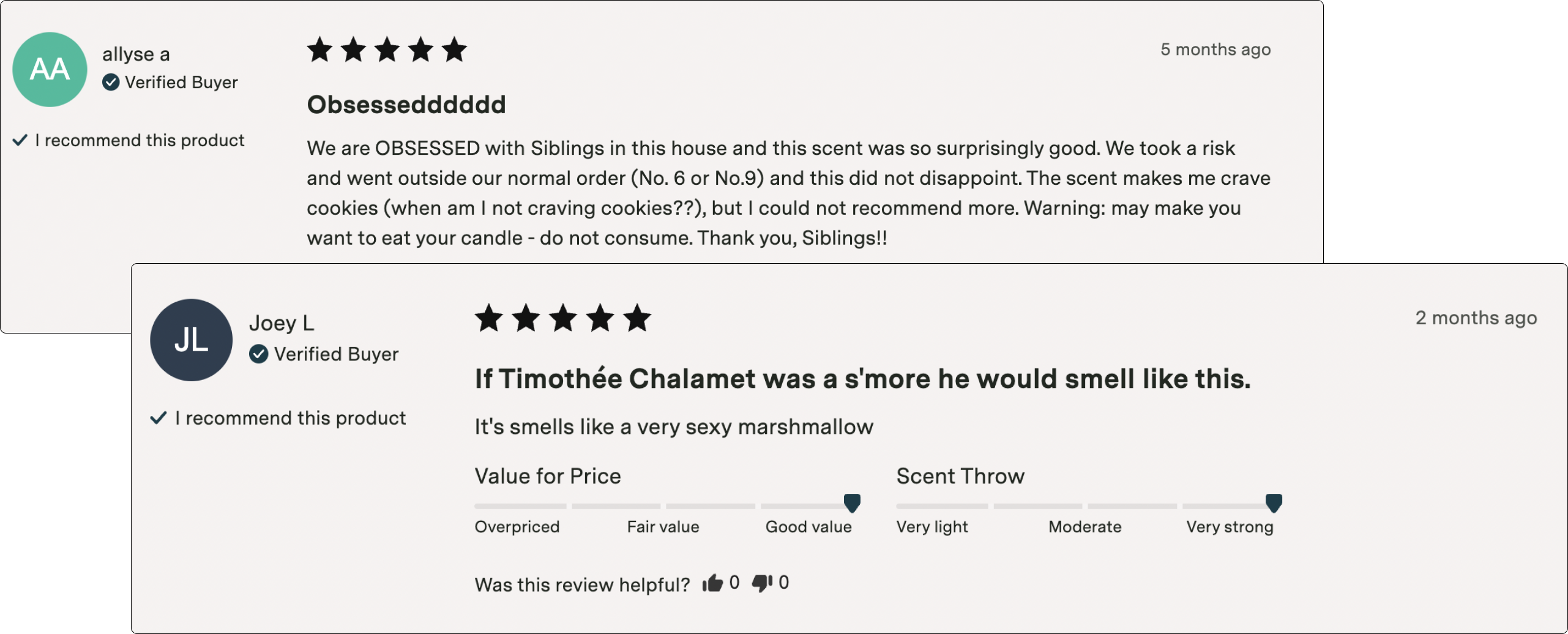 Since switching to Junip in May 2022, Siblings has:
Collected 977 reviews from their customers with an average rating of 4.81 across all products
Collected 255 photo & video reviews – 1 in 4 of every review submitted has media
Increased its submission rate by 729%
Increased on-site conversion by 56% since adding Junip to its product pages
Beyond conversions, Siblings' return rate has decreased by 61% since switching to Junip. Now that Siblings' review section is rich with media and detailed reviews, customers can more easily find a scent that they know they'll love.
Today
Since customers can't experience the product until they buy it, reviews are crucial to helping potential customers understand how Siblings candles work. They also provide different perspectives on their scents to help customers make the best choice.
Designed with only desktop in mind, the experience of submitting a review with Yotpo was painful for customers and prevented Siblings from collecting the valuable social proof they needed. Since migrating to Junip, Siblings has the tools to help them reach customers when, where, and how they're most likely to leave a review.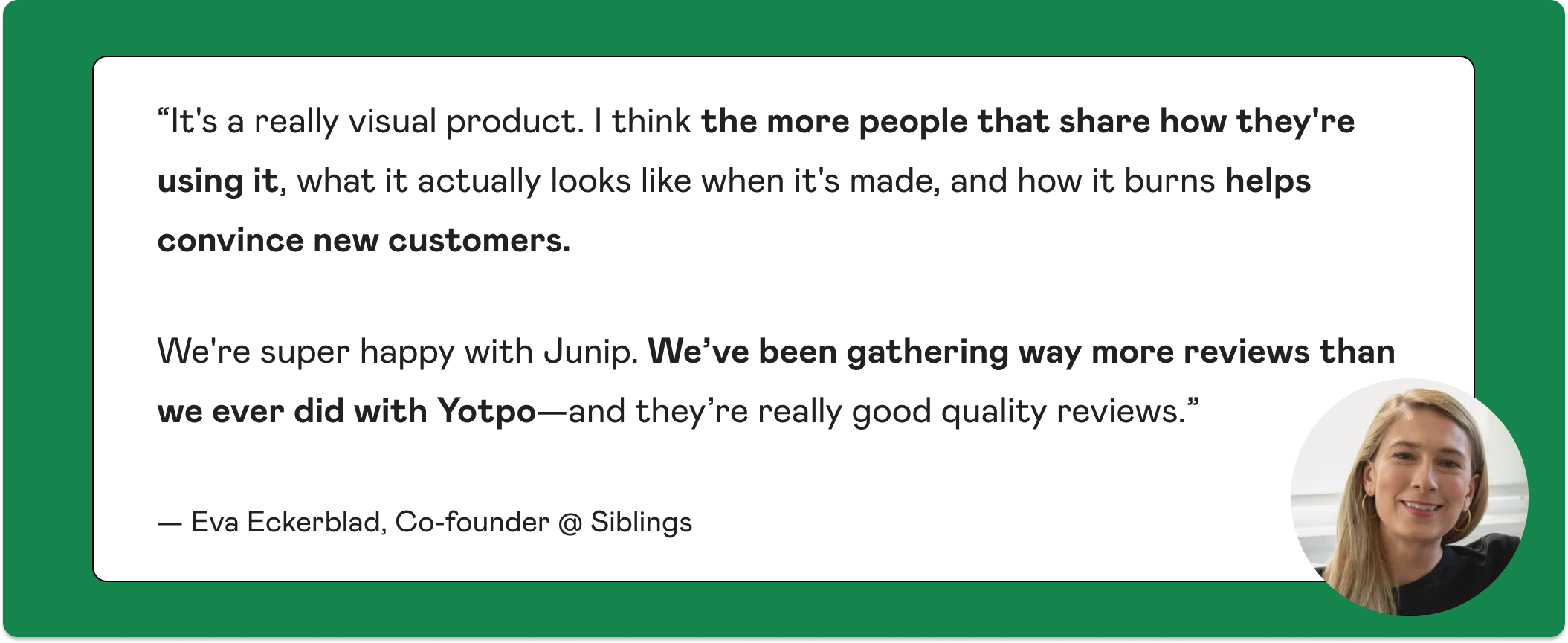 Getting Started
Junip is focused on one thing - helping brands of all sizes gather more reviews & use them everywhere that matters. If your team wants to make the move, install now for free or reach out here & we can help you plan out your move!
Make the Move
Junip helps brands of all sizes gather more reviews & display them everywhere that matters
Get Started Now