How To Get GTINs For Your Products
If you're an ecommerce brand looking to expand into retail or list your products with other marketplaces, you've probably been told you need GTINs.
The first thing to know is that you have to go through an official organization to get GTINs for your products. You cannot assign GTINs to products yourself.
Table of Contents
Continue reading to learn where to get GTINs for the products you sell online, how much they cost, and how the process works.
---
What is a GTIN?
GTIN stands for Global Trade Identification Number. GTINs are part of an internationally standardized system developed by GS1 that is used to uniquely define products in the global marketplace. A GTIN is a sequence of 8-14 digits that are located underneath the barcode on a product's packaging.
Sometimes people use the terms Barcode and GTIN interchangeably, but it's important to understand the difference. A barcode is the symbol on a product's packaging that gets scanned at checkout, while a GTIN is the number that's encoded in the barcode.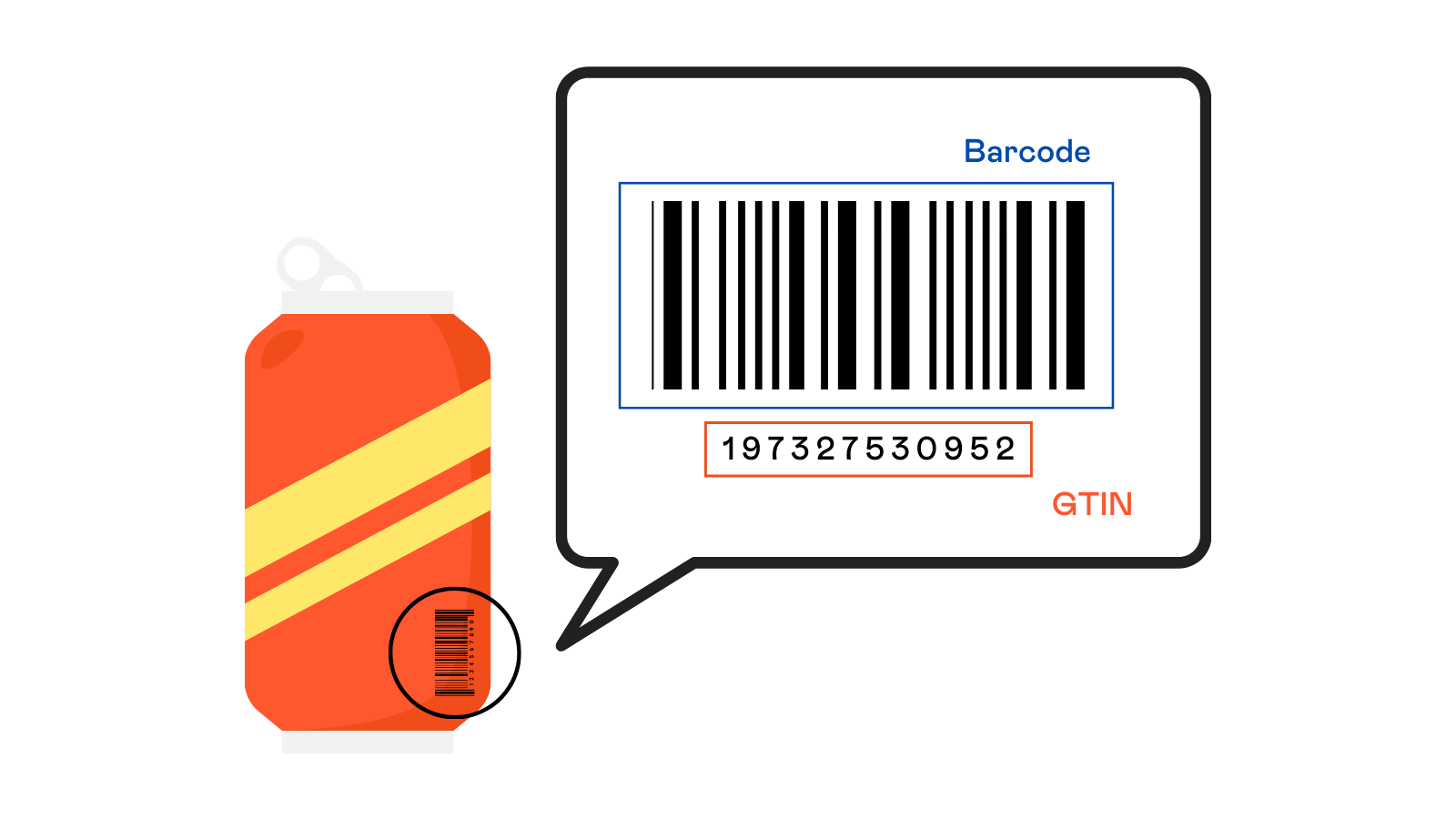 Why GTINs are important when selling online
In a brick-and-mortar retail store, it's easy to know what a product is because you can pick it up and read the label. In the world of ecommerce, where information about products is exchanged electronically, it's easy for two products to be mistaken as the same. This is where GTINs come in. Since they're the global standard for identifying products, retailers, marketplaces, supply chain members, and even review providers (like Junip) rely on GTINs to understand your products. Some specific use cases of how GTINs are used in ecommerce include:
Many large retailers and marketplaces will require all products to have GTINs before they can be listed to ensure the product is authentic & verify product identification
GTINs help shopping platforms like Google Shopping and Amazon, index products so they can serve relevant search results to shoppers
Review providers (like Junip) use GTINs to match reviews to products when displaying reviews on storefronts and syndicating them to other channels
3PL companies rely on GTINs for accurate inventory tracking and to reduce errors with order packing
In short, GTINs are the most efficient and reliable way to communicate information about the products you sell with external partners.
How GTINs work
GTINs are part of an internationally standardized system developed by GS1 that companies use to uniquely define products. The whole point of GTINs is to make sure that each one is unique and that no two products have the same GTIN. Because of this, all GTINs are managed and registered through GS1. Brands have to purchase GTINs for their products from GS1, they cannot assign themselves a GTIN (like they normally do with SKUs).

Every GS1-issued GTIN is registered in a database that's owned by GS1 and that trade partners use to verify products. If a merchant makes up a GTIN, it won't match any in the GS1 database, which alerts the partner it's invalid. Even if a merchant tries to reuse a purchased GTIN for a discontinued product, it won't work. The database includes specific product information for each GTIN (e.g., flavour, size, colour), making it invalid for other products not originally assigned to it.
How to purchase GTINs from GS1
GTINs can either be purchased individually, or they can be purchased in bulk (i.e. licensed by GS1). Licensing GTINs lets you buy a bunch of GTINs in bulk so you have enough for your current product catalog and extras for when you introduce new products.
When licensing GTINs you also get what's called a GS1 Company Prefix. A Company Prefix is a unique set of numbers at the beginning of each GTIN that identifies your company as the owner of a product. Only your company can use your Company Prefix, which makes it easier for trade partners and retailers to identify your products.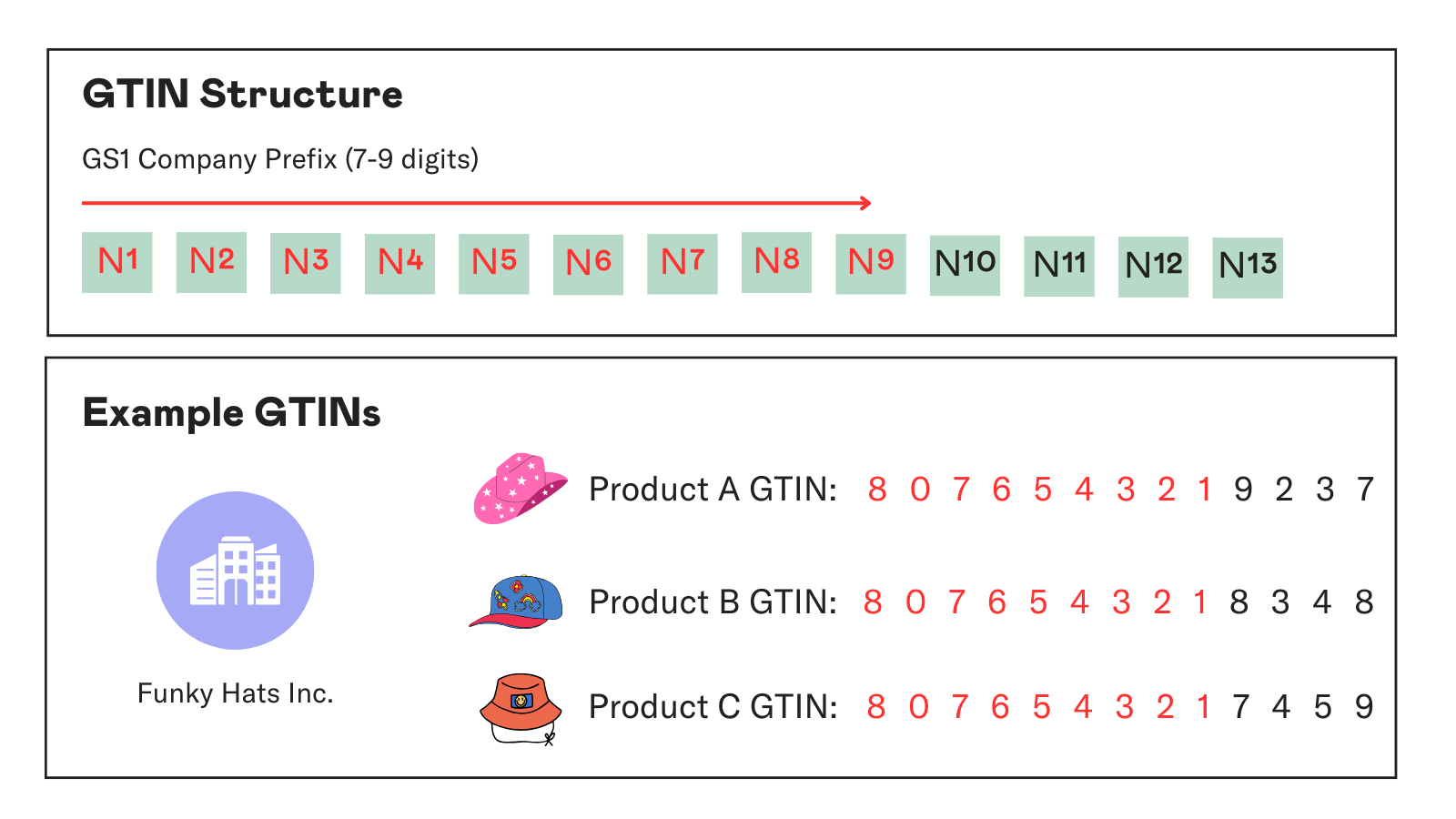 Choosing between Individual GTINs and Company Prefixes
In 2020, GS1 introduced the option to purchase single GTINs to support small businesses selling online. The choice to purchase individual GTINs vs. licensing GTINs comes down to how many products you have. Every product and product variant needs its own GTIN.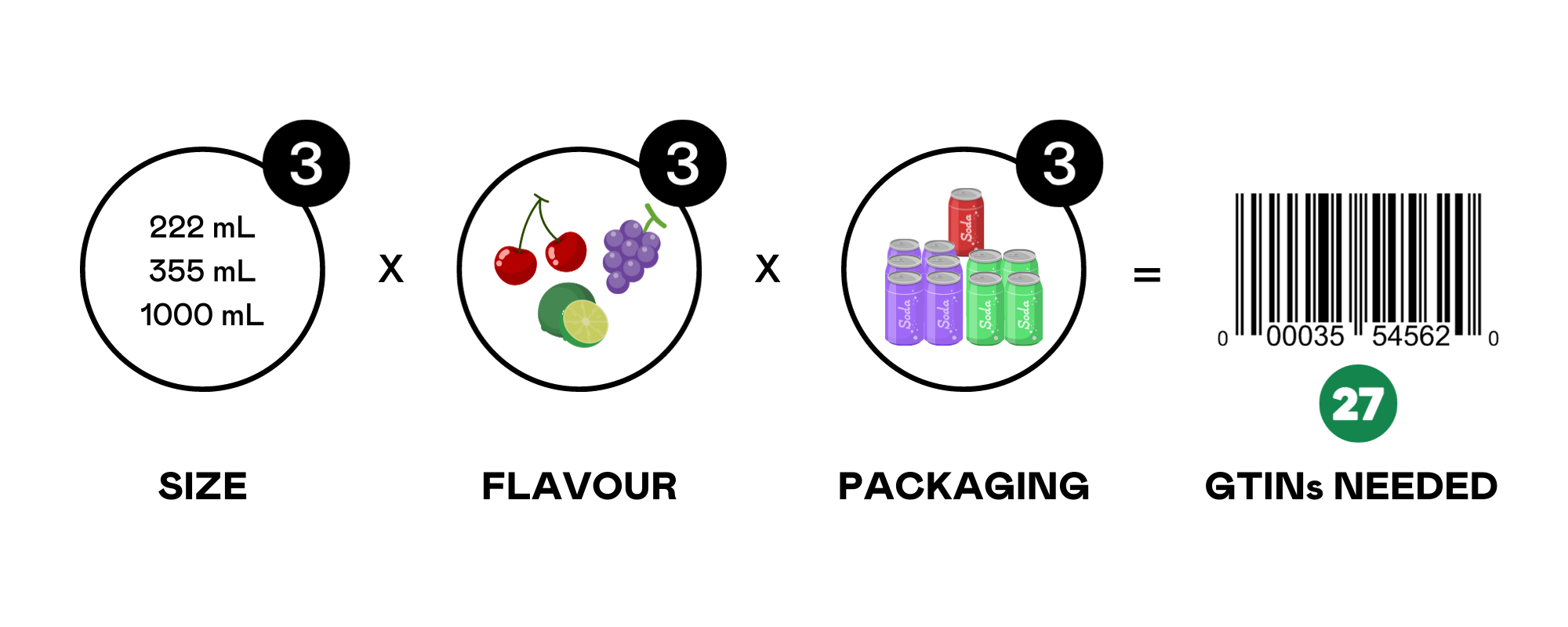 If you have between 1-9 products, it makes sense to purchase individual GTINs which cost $30 USD each and don't have an annual renewal fee. When you have more than 9 products and plan to expand your product catalog, it can be more cost-efficient to use GS1 Company Prefixes. The cost of licensing 10 GTINs has an initial fee of $250 and requires an annual renewal fee of $150. The renewal fee prevents your Company Prefix from expiring and ensures your GTINs are valid.
You can see the pricing chart below, but the more products you have, the cheaper it gets to use Company Prefixes versus paying for individual GTINs.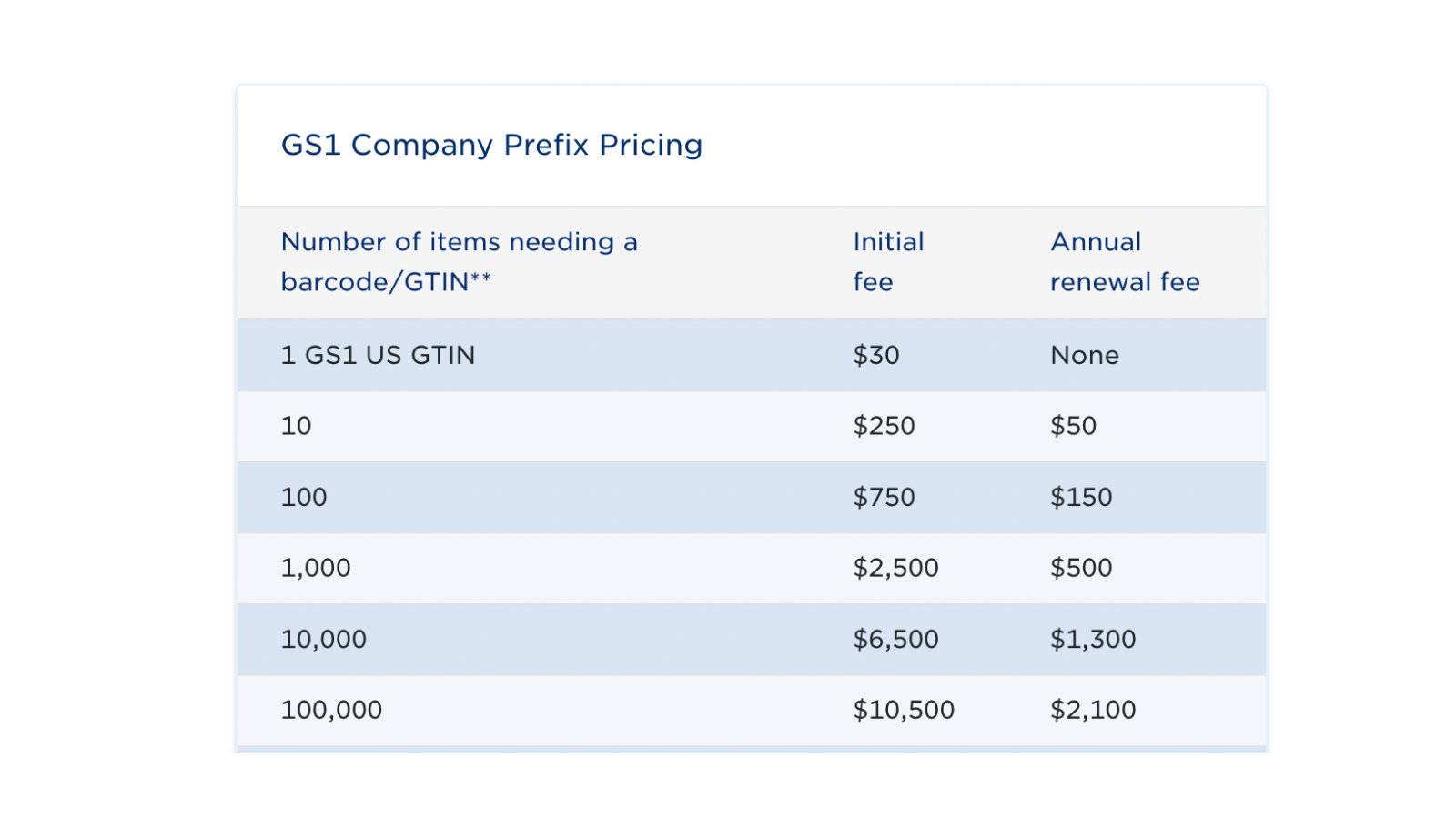 Companies also opt to use Prefixes when they have other identification needs such as higher levels of packaging (e.g. cases and pallets). Some retailers may also require you to provide them with a Global Location Number (GLN) which is provided with your Company Prefix. This is a unique number that can be used to identify the geographic location of a shipment at any point in the supply chain.
Step-by-step guide to purchasing GTINs
Calculate how many products you need a GTIN for (use GS1's calculator to help you do this)
Head to the website of the Member Organization you'd like to license your GTINs from: GS1 US, GS1 CA, GS1 UK

Note: GTINs should be purchased from the Member Organization of the country your company is registered in. For example, if your products are manufactured in Germany, but your company is registered in the US, you should purchase your GTINs from GS1 US.
Select individual GTINs or Company Prefixes
Before purchasing, you will be asked to input information about the products you sell, contact information, and payment information
Once you checkout, you will receive an email containing your GS1 US GTIN or your Company Prefix, and links to the following two tools:
*GS1 US Data Hub - manage product information and create barcodes
* myGS1US - update membership information
Leveraging GTINs when selling online
Once you've purchased GTINS, not only are your products ready for retail, but they're also optimized for all the other channels your products are listed. For example, if you're using Junip and list your products on Google Shopping, you can easily share reviews on your product listings in Google Shopping. Reviews and star ratings will boost your conversion, and GTINs help Google show your products in relevant search results. To start displaying reviews on Google Shopping, you can get started here.
FAQ
Can GTINs be used immediately after you purchase them?
Yes. Once you have submitted your payment information, your GTINs and/or Company Prefixes have been licensed and they're ready to be used immediately. However, it may take up to 48 hours for marketplaces and retailers to recognize a newly licensed GTIN.
Should I buy individual GTINs or License them?
When you're a new business and only have a few products, it's more cost-effective to purchase individual GTINs. If you have a lot of products and plan to expand your product line, it's better to license GTINs from GS1.
Are there any products that don't require a GTIN?
Most products require a GTIN. However, when a product is not widely manufactured a GTIN is not needed. Examples of products that don't require GTINs are custom-made or handmade goods and vintage or antique products.
What happens if I run out of GTINs?
There's two ways to get more GTINs if you have used all of the available licenses that you've purchased. You can either purchase additional individual GTINs for $30 each. Or you can purchase another Company Prefix.
---
Make the Move
Join 3,000+ of the fastest growing brands like Jones Road Beauty, Kotn, & Olipop who use Junip to collect more reviews and display them everywhere that matters!
Get started