How to Get Customers to Leave Reviews on Your Shopify Store
We can all agree that product reviews are important, especially in ecommerce. They help customers decide whether your product performs IRL while also letting you flaunt your top tier products and exceptional customer service. We see brands like Brooklinen, Patagonia, Oats Overnight, and even GoPro generating thousands of product reviews - but how do you start?
1.  On-site Review Forms
On-site review forms let anyone review your products - whether they're customers or not. A click of a button and a few keystrokes is all it takes for someone to leave a review.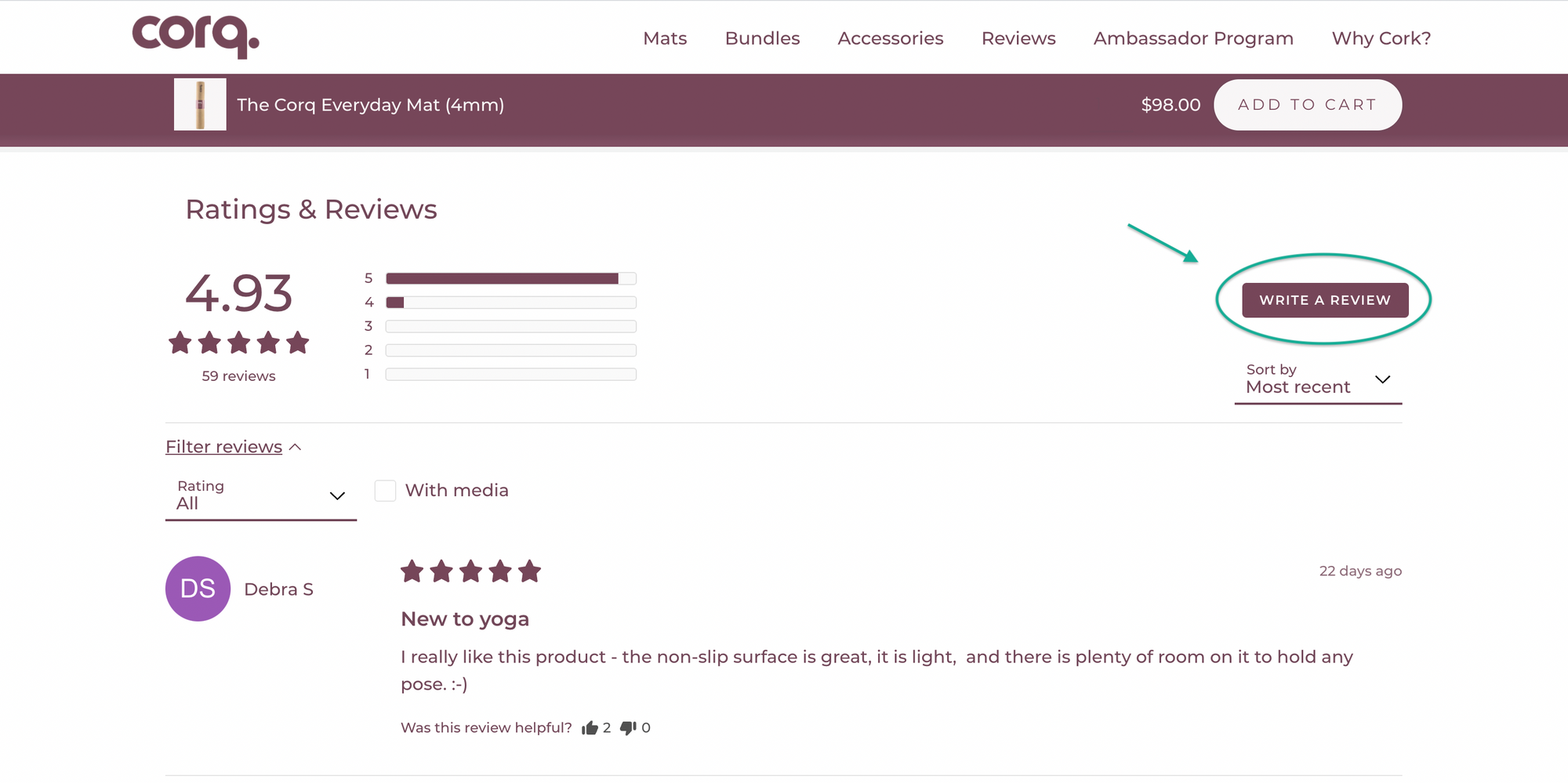 It almost sounds too good to be true, right? That's because it is. Your reviews section exists to build trust and drive conversions. An on-site review button can sabotage this for two reasons:
When customers see that anyone can leave a review, they have a hard time trusting the reviews that are there
It can disrupt the customer experience. We want to remove as many obstacles as possible before a customer gets to checkout, so on-site review forms can just be another distraction
When to use: if there's no way to leave reviews without visiting your site (i.e. not using post-purchase review requests) - instead, after a customers make a purchase direct them back to a product page so they can use the on-site review form.
How to use:
Choose a review provider (like Junip!)
Add the review widget to your product page
Try using coupons or discount codes to incentivize new customers to leave a review
2.  Individual Product Review Links
An individual product review link is a URL that you can manually send to your customers. Once they open it they will be taken to a new tab to submit a review for a specific product. While they're a good way to collect reviews from your customers on a one off basis, they don't scale.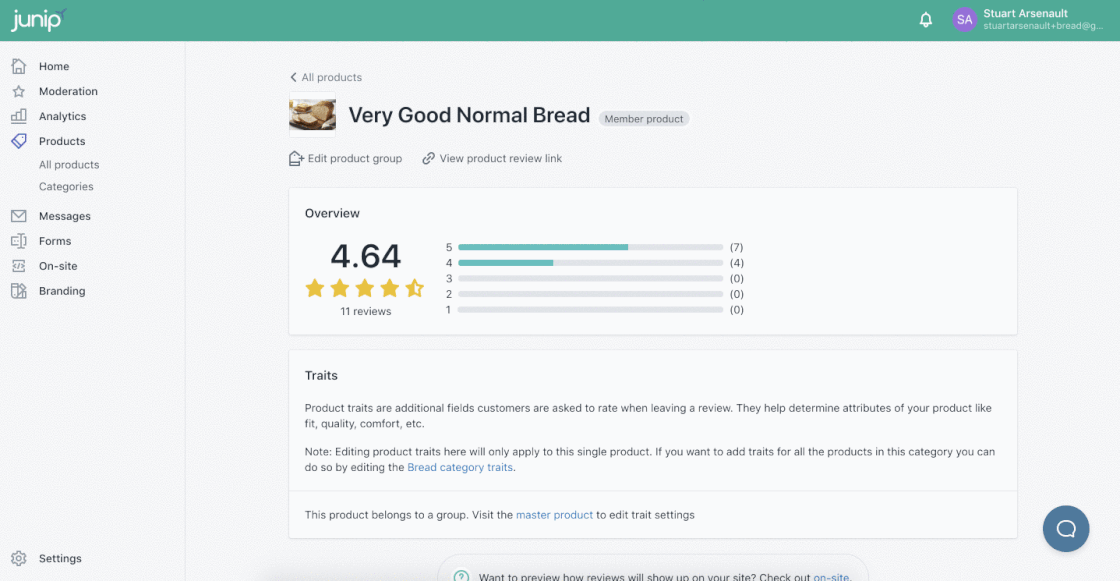 When to use: these are perfect for when you're talking with a customer one on one (ex. support chats!). Sending them to your early supporters is also a great way to kickstart your reviews section.
How to use: see here for more details about how you can use Junip's manual product review links to gather reviews for your Shopify store!
3.  Automated Review Requests
Automated review requests are post-purchase emails sent to customers and are by far the most effective way to collect customer reviews. Over 90% of customer reviews are collected using them. By giving your customers an opportunity to provide feedback after each purchase will not only generate more reviews, but it will drive traffic back to your Shopify store and increase conversions.
Things to keep in mind when creating yours...
Timing is key - give customers enough time to enjoy what they've bought before asking them to leave a review
Keep it simple - making it too complicated to leave a review can lead to drop off. Use review forms or product links that make it easier for customers
Be yourself - use this touchpoint to showcase your brand's personality with bold subject lines and build stronger customer relationships by expressing your appreciation for their support
For example…
When to use: customers who've bought from you should be the only ones receiving these emails. We recommend waiting 7-10 days after a customer's order has shipped.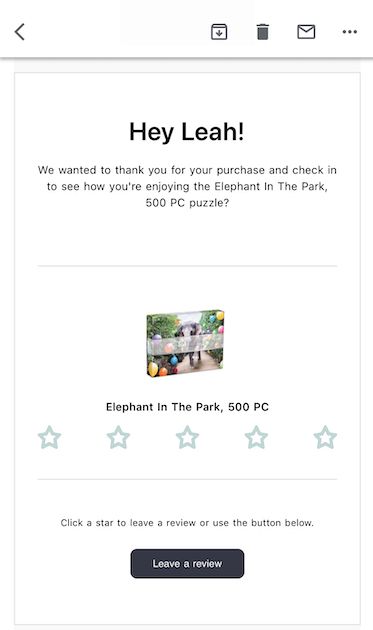 How to use:
Create a review request email template
Schedule your emails to control how long after purchases are made a customer receives one
If you already use post-purchase emails, add this as a step where it makes sense (usually after a shipping confirmation email!)
Tip: offering discount codes when a customer submits a review is a good way to encourage customers to leave reviews and drive repeat customers.

Final Thoughts
Brands that prioritize collecting customer reviews can increase conversion up to 270% when a product has as little as five customer reviews. As a store owner, it's important to build trust with potential customers and product reviews are the kind of social proof to help you do this. Whether it's a negative review, positive review, or photo review - no matter what the type, it's important that you make it as easy as possible for your customers to leave them.
So, what are you waiting for? Sign-up with Junip for free & start collecting reviews from your happy customers with just a few clicks!