How Being Sustainable Can Grow Your Ecommerce Business
Sustainability is the future of e-commerce. As the industry becomes saturated, there will be fewer options to differentiate your brand from the competition. Sustainability is here to help you stand out from the crowd and attract new customers.
Being sustainable isn't just what's best for the planet, it's what consumers want. The COVID-19 pandemic amplified this push for eco-friendly brands and products. With a virus keeping millions of people indoors, online stores all over the world profited from increased online shopping. Even before the pandemic, e-commerce was already prospering, with sales increasing by 4% from 2018 to 2019.
The current state of e-commerce is not ideal for our planet - an average e-commerce sale in the United States produces about 1.4kg of greenhouse gas emissions, which is the equivalent of charging 170 smartphones. Consumers aren't unaware of this, either - in a time where social media is the new normal, it's very easy for them to find out and share with others the companies with initiatives that are doing good things for the planet (and subsequently, those that are not).
---
Consumers want sustainable brands
With many brands hesitant to change their habits and business models to be more sustainable, customers have quickly moved on and changed the brands they'll support because of how much they care for the environment. Nearly 60% of consumers are willing to change their shopping habits to reduce their environmental impact. And in general, nearly 80% indicate sustainability is important to them.
Customers will support and be loyal to brands that support and share their values. With something as universal as the environment, it would be hard to be a brand that doesn't support the environment in this day and age. Younger generations, who are quickly entering the workforce and increasing their spending power, exceedingly believe in supporting brands that support the same ideas that they do.
Becoming a sustainable brand will reap benefits. Not only will you be helping the planet, but you will also become a brand that people want to support and care for. Consumers will easily change their stances and support for brands that don't help the environment - so be the brand that does.
---
How sustainability can boost your business
Attract new customers
Being an eco-friendly brand will help you attract more customers and capture new audiences. Millennials and Gen Z are both generations that care about the environment and sustainability, and their opinions are important - their spending power was nearly three trillion dollars in 2020. Sustainability is at the forefront of these generations' concerns, and their opinions can decide your brand's future.
These generations are not afraid to cut ties with brands who do something they disagree with - even if the brand was previously a favorite. In fact, 57% of consumers will completely boycott a brand that doesn't share their social beliefs, targeting brands big and small all over the world.
In a tumultuous world, being an environmentally friendly brand will help you stand out and gain the support of customers everywhere who want to make a change with you. By being a sustainable brand you're de facto helping your customers to be more environmentally-friendly in their everyday lives.
Sustainability as a competitive advantage
It's not too late to make your brand sustainable - after all everyone has to start somewhere. Sustainability hasn't become widespread enough among brands for it to be a standard. Right now, there's still an opportunity for your brand to utilize sustainability as a differentiator from other brands. Capitalize on it, make it part of your brand - and when it does become a standard, you'll be at the forefront of sustainable e-commerce businesses. Not to mention as consumers look for sustainable products, they'll pick you over your competitors who aren't considering their environmental impact.
Boost cart conversion rates
Implementing sustainable practices can be the make-or-break factor during checkout. Any sustainable initiative you incorporate into your business model, big or small, can help boost cart conversions in your shop. Brands like Nuzest and Tribe Kelley saw their cart conversions lift by 20% on average just by adding a carbon neutral checkout option with EcoCart.
Tools like EcoCart, a free e-commerce plugin that lets you ship orders carbon neutral, are a great way to start or further your sustainability initiatives and boost business. Customers are more inclined to purchase from your shop knowing that they can have a positive impact on the planet.
---
How to successfully incorporate sustainability into your brand
Now that you know sustainability is important, it's time to add it to your business model. While you can integrate sustainable practices throughout your brand in many ways, it won't accomplish much if your customers aren't aware of it. Unfortunately, because many customers want to support sustainable brands, a lot of brands make false claims about what they do without any proof or verification. 53% of Americans never, or only sometimes, believe in a company's claims about being environmentally friendly.
Whatever sustainable initiatives you incorporate into your brand, make sure your customers know about it. Third-party verification, benchmarks, and communicating with your customers about the impact you're having and the work you're doing for the environment is the best way to build trust with consumers. Be transparent! Show your customers all the hard work you're doing, and they'll want to join in.
Utilize sustainable packaging
Packaging is one area of e-commerce that generates a lot of waste. From plastic mailers to layers of wrap, most packaging cannot be recycled or isn't biodegradable, creating waste that sits in a landfill for a few hundred years. Swapping your packaging for biodegradable or recyclable poly bags and mailers can help reduce the amount of waste that goes to landfills. Packaging made from post-consumer waste is another way to make use of already existing materials. EcoEnclose offers a variety of sustainable packaging and packaging materials to suit all your needs. Changing to paper tape, biodegradable packing peanuts, and compostable shipping labels are just a few more sustainable packaging options you can consider!
Offset your carbon footprint
Carbon offsetting is a way to integrate sustainability into your brand without drastically changing your entire supply chain. Every aspect of your business generates carbon emissions in some form or another; consider purchasing carbon offsets for manufacturing or shipping your products, or giving customers the option to do so at checkout. Incorporating carbon offsets into your brand is a very easy and practical way to integrate sustainable initiatives.

Implement recycling initiatives
Recycling programs are also a tried-and-true method of sustainability. Lots of large brands and retailers have created their own recycling programs to properly dispose of used products and their containers. Depending on the nature of your product, it might be hard for consumers to properly recycle it on their own. By offering a recycling program, you take the stress away from the consumer and can even encourage them to come shop at your store again by offering a discount when they recycle a product!
Importance of communication
Customers want transparency throughout all these processes. In an era of social media and cancel culture, it's important to be as transparent and honest about your sustainability initiatives as possible. Clearly documenting your goals, plans, and impact in a way that your customers can understand will help your brand gain a loyal and trusting customer base. Keeping your customers updated on your initiatives will also help them feel like they are part of your brand's efforts to have a positive impact on the environment.
How to tell if your communication is effective or not
Reviews are one of the best ways to tell if your communication efforts are effective. Customers will express their joy for a product they love that can also have a positive impact. Positive reviews go a long way - social media can work in your favor too, and help your brand gain popularity for what you're doing for the planet. Junip allows customers to read and share reviews for e-commerce brands all over the world, which can help people trust your sustainability initiatives even more! Reviews will also help you learn about what you can change, and what your customers are demanding for sustainability.

As our market grows and the need for sustainability increases, being at the forefront of sustainable e-commerce is important for ensuring that your brand stays relevant and prospers for decades to come. Gaining the loyalty of customers new and old can only help you grow your e-commerce business, and pushing sustainable business practices will help your brand and our planet.
---
Author bio: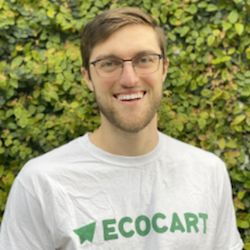 Peter Twomey is the co-founder and COO at EcoCart. Peter's professional passion is building software solutions that solve problems he experienced-first hand in his time as an entrepreneur. In his free time, you can find Peter skateboarding around San Francisco and cleaning up the beach with his dog Butters.