Case Study: Reviews Should be Easy, How Oats Overnight Collected 25,000+ with Junip
How it all began
What started as a science experiment at Brian Tate's kitchen table in 2017 soon became an industry-leading premium breakfast company. With only a few tools, hundreds of hours spent researching, testing, and tasting, Brian and his team finally landed on 3 flavors that were high quality, high in nutritional value, and most importantly - delicious. Consumed by the pursuit of making the best overnight oats out there, Brian created a whole new way to eat breakfast that people would soon come to love.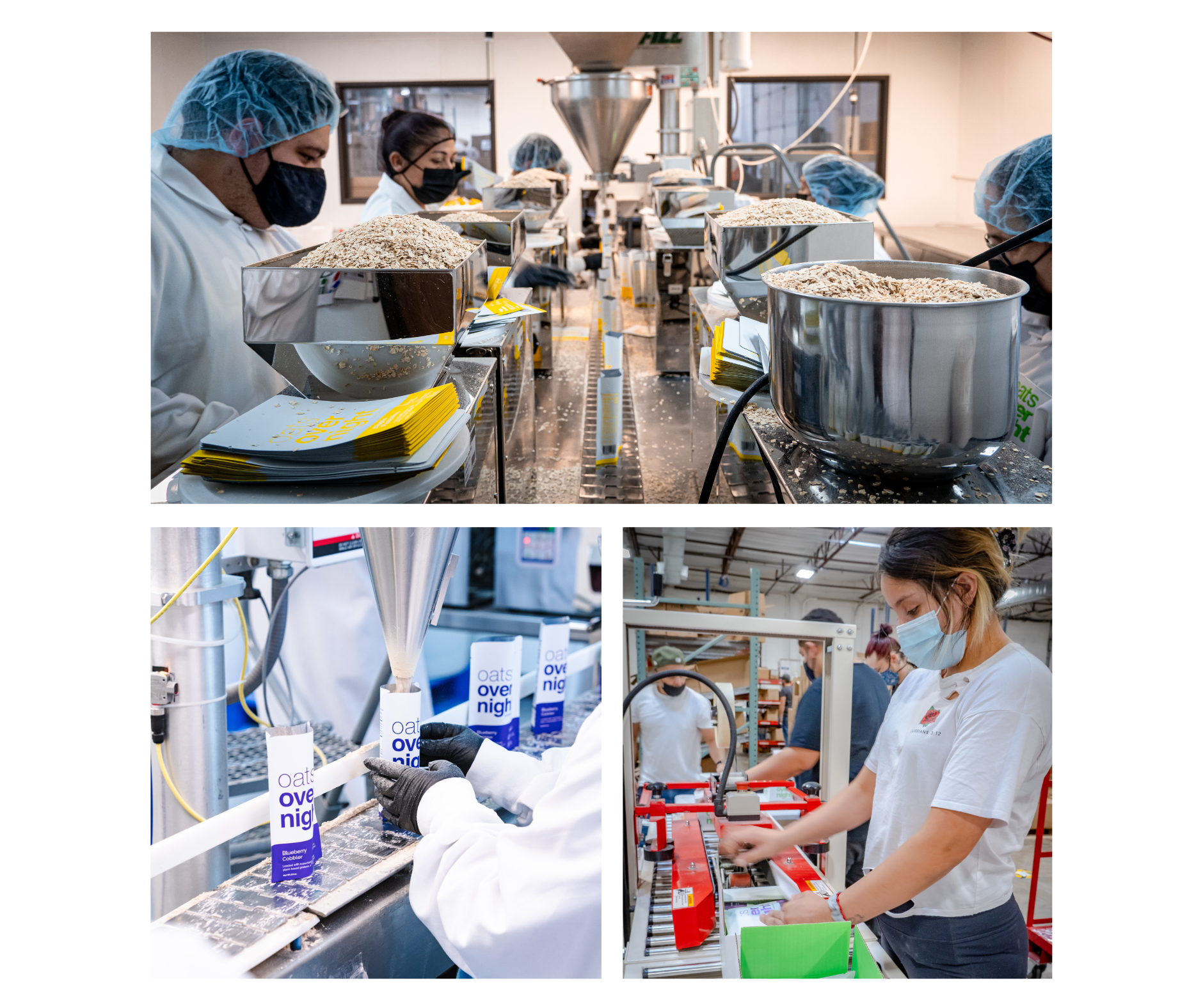 Add in some eye-catching branding, a warehouse, a makeshift fulfillment operation, and they were off on the path to being the eight-figure company they are today.
Just months after launching, they outgrew their manufacturing facility and their order volumes tripled. By obsessing over quality and customer service, they continued on the path of success and garnered tens of thousands of customers by year-end.
Growing pains
Fast forward to year three and the Empire of Oats had expanded on all fronts: more flavours, more employees, and more customers. While the business was on fire (in a good way) it wasn't all sunshine and rainbows. More money sales = more problems.
"We had tens of thousands of orders a month and we were scaling quickly. We had to upgrade our operations on every level and my job was to keep an eye on the big picture while balancing my day-to-day tasks. It was definitely a difficult time for everyone."

- Brian Tate, CEO of Oats Overnight
Expanding retail locations, scaling Facebook advertising, building an in-house fulfillment team - the list went on forever. The days were long and the items on Brian's to-do list were piling up. Like every to-do list, there's always that one looming item that for whatever reason, we keep putting off. For Brian, this was dealing with his reviews.
"We want reviews that work"
First and foremost, all their new flavours needed reviews. The next headache was with how their reviews were being displayed on their site. Reviews were showing up on the wrong products and it became a nightmare trying to fix it. They continued to have problem after problem with the admin and nothing seemed to work how they needed it to.
It was a mess, they had no time to deal with it - but the idea of migrating to another vendor seemed even more daunting. Brian didn't need reviews to revolutionize his business - he was already doing that on his own - he just needed them to work. So he reached out to Junip for some help. He needed us to do three things for him:
Handle his review data so it could be imported in the right format
Have his reviews match the look and feel of the site
A better way to gather reviews from his customers
The Great Migration
It took all of 10 minutes for Brian to make an account on Junip and install the app on his store.
Junip took the unruly data Brian's previous tool gave him, transformed it & managed the import so we didn't have to start from scratch.
Once the reviews were in his Junip account, all that had to be done was enable the on-site display and they were good to go! Junip also matches the branding and custom themes of any store so that everything has a seamless look and feel. No outside developer is required, all of the custom branding could be done directly from the Junip admin.
"I was blown away by how nicely Junip's on-site display fit with our product pages. We finally had a review section that worked and didn't look a mess."

- Cesar Gonzalez, Director Of Business Development at Oats Overnight
A new way to gather reviews
After configuring how everything would look on their site, it was time to start gathering reviews. Compared to what they had before, Junip's intuitive review forms that customers could open directly from their inbox was a breath of fresh air.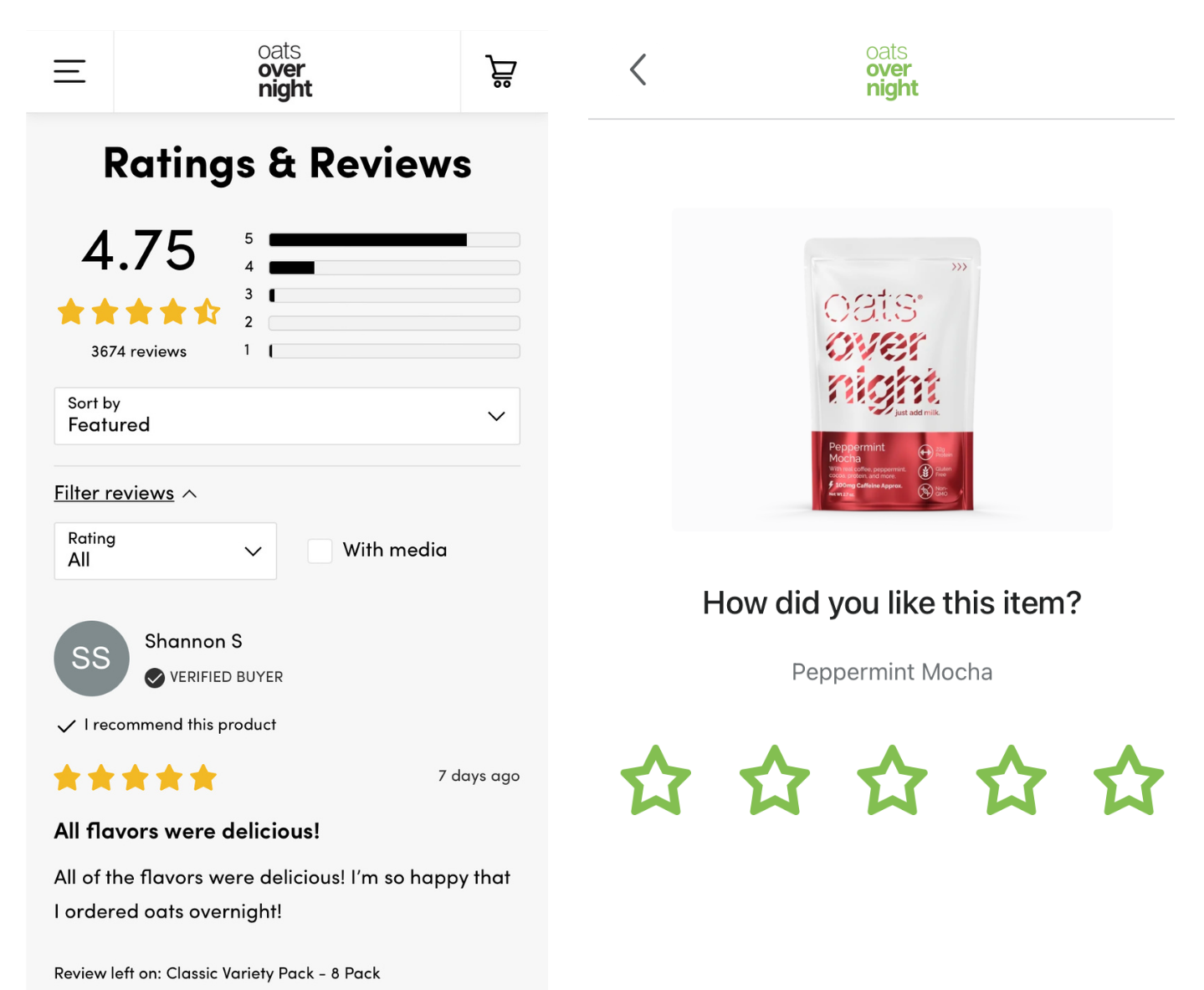 The beauty of it all was they could hook up their Klaviyo account to Junip so that all their customer communication could be done from one place. This also gave them the option to have more customization with their emails to get closer to where, when & how a customer was most likely to review. Junip's custom "review created" events helped them to further personalize the experience by leveraging review data with the rest of their email marketing.
"Rolling Junip into Klaviyo gave us a ton of control over collecting reviews that we didn't have before."

- Cesar Gonzalez, Director Of Business Development at Oats Overnight
Junip also gave them a better way to collect photo reviews. Before switching to Junip, they didn't have a single photo review. So when they started using Junip's mobile-first review forms that were designed to make it easier to upload photos, they saw a huge difference.
They now have over 250 photo and video reviews from happy customers, just like this one here: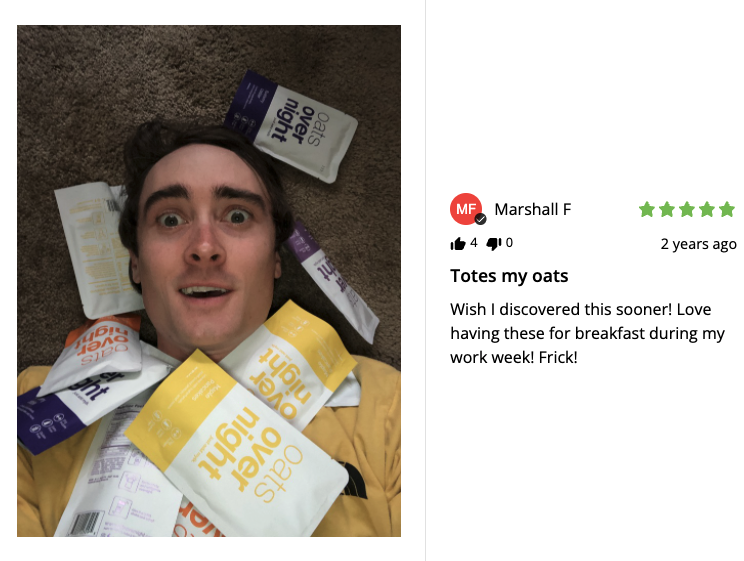 How things are going today
Oats Overnight has grown into an eight-figure industry leading company in the premium breakfast industry. They now carry 15+ delicious flavours and have a team of 100+ members that go above and beyond for their customers.
In terms of how their reviews are going, Brian was finally able to cross them off his to-do list. They are now able to manage the entire review process and have full control over how their reviews are collected and displayed.
"It was like night and day for us. Everything about our reviews is so straightforward. We could finally leave everything on autopilot without worrying what might go wrong."

- Brian Tate, CEO of Oats Overnight
While Junip's review forms do make it incredibly easy to leave reviews, we can't take all the credit. Getting customer reviews starts with having a great product. If their review section tells you anything, it's that people love their oats.
Together with Junip, Oats Overnight has collected over 25,000 glowing reviews & this is only the beginning.