Pedal Mafia Increases Review Submissions by 132% & sees a 29% lift in On-site Conversion with Junip
Empowering the Bonds Between Cyclists
When you have passion driven customers that obsess over product performance, there's nothing more important than getting it right. Every touchpoint a customer has with your brand needs to be a reflection of the high quality craftsmanship they experience in your products. The same can be said for Pedal Mafia, a brand born out of the passion for cycling and one that takes pride in their end-to-end customer experience.
Founded in 2014 by Jay Barron, Pedal Mafia was built off of the relationships and stories cyclists create on the road. Pedal Mafia set out to create a modern wardrobe for the cycling enthusiast, weekend rider or professional athlete.
The Problem
Pedal Mafia's customer centric obsession doesn't stop at making high quality products. They're meticulous about keeping a consistent look & feel throughout the entire customer experience. But there was one part that stuck out like a sore thumb – reviews. They were previously using Judge.me for their reviews, but the lack of customization became unbearable. With zero control over how their review requests looked, they had no choice but to shut them off entirely since "they looked so ugly".
Jack Twisse, COO of Pedal Mafia, felt like Judge.me was the "Alibaba of review platforms" and was a "good option for cheap brands" – in other words, Judge.me didn't align with their high value brand and lacked the functionality they needed to do the most basic review-related tasks.
"We knew how important reviews are for conversion, so we had to start sending review requests again and it had to be beautiful - that's why we reached out to Junip."
- Jack Twisse, COO @ Pedal Mafia
Syndication was another point of contention with Judge.me. Pedal Mafia has two store fronts, US and AUS, and they needed their reviews to sync correctly between both sites. But unfortunately this wasn't the case. Reviews weren't showing up on the right products and it was impossible for their team to see whether it was a customer from the US or AUS that left the review. This made it a nightmare for the customer service team to try and follow up with a customer when something went wrong, Jack explained.
The Migration
Jack had a million and one things on the go. He knew that review requests couldn't be turned off for much longer, but he was too busy to waste any more time on a platform that wasn't doing what he needed it to do. This all changed when he came across Junip. He found a new way to collect  reviews that was seamless and effective. With fully managed onboarding, the entire transition from Judge.me to Junip was handled for him so that he didn't have to lift a finger.
"When integrating with other platforms, sometimes they'll set you up 80% of the way and leave you hanging. But with Junip, they get you 100% set up and I didn't have to worry. It was by far the easiest integration we've ever done" Jack said.
Pedal Mafia uses Klaviyo to communicate with customers, so being able to integrate Junip with Klaviyo was a game changer. They could create custom emails that matched their branding and have their review requests work alongside the rest of their marketing emails.
The Result
With a much more powerful way to collect reviews, Pedal Mafia's review submission rate jumped 132% since switching to Junip, and they gathered 1,400+ reviews in just 6 months. Reviews were no longer a disconnected joint in the flow of their customer experience. With complete control over how they were being sent and what they looked like, review requests could finally be integrated alongside their marketing communications."The integration with Klaviyo was huge for us, we could now monitor our open rates and churn rates against all of our other marketing" Jack said.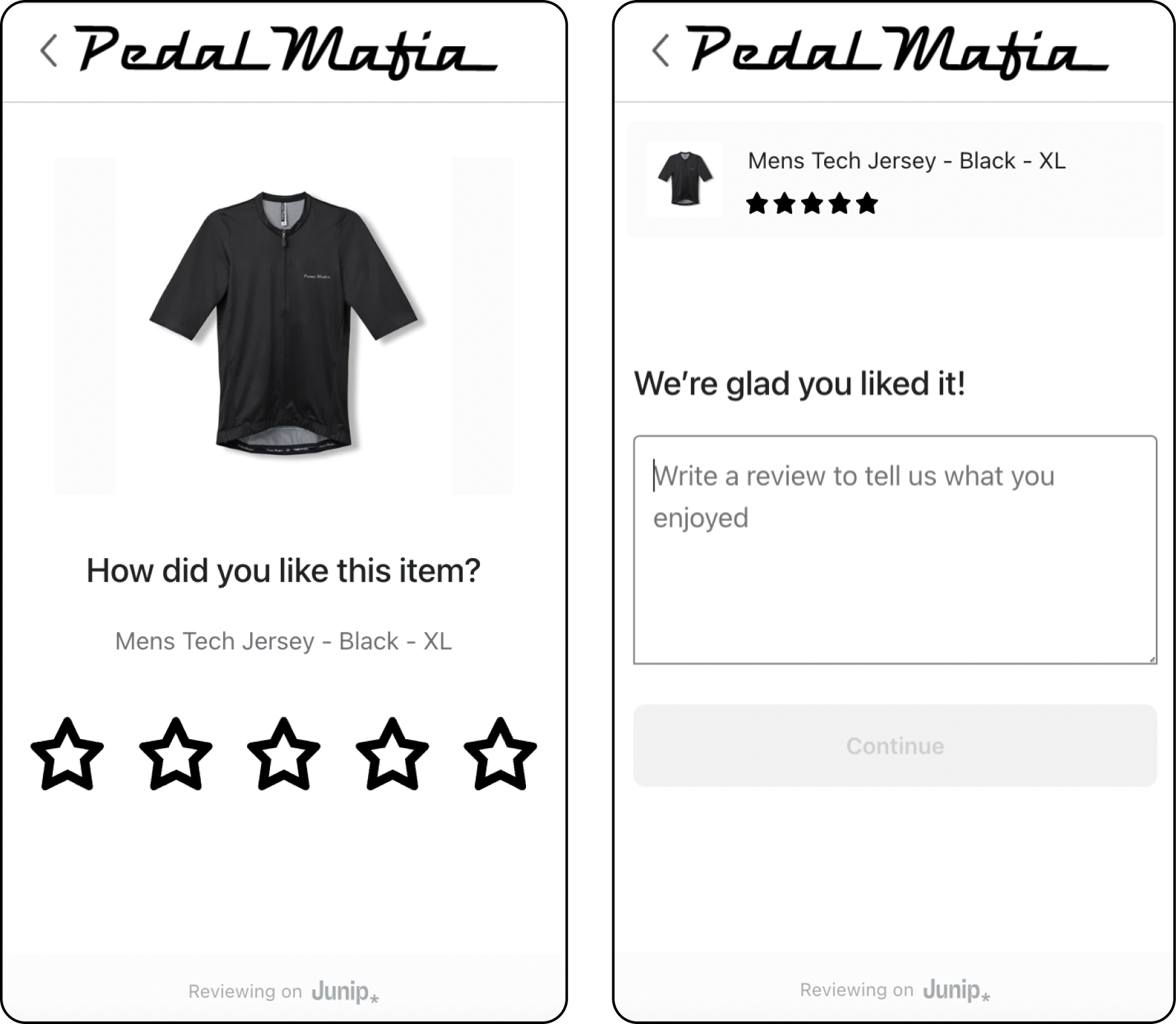 They now had a system for collecting reviews that was easy to manage and worked seamlessly with the rest of their tech stack. Their customer service team could track where each review came from, enabling them to identify happy customers and follow up when something didn't fit right. This opened up a whole new channel to communicate with customers.
"Sometimes reviews are the only way customers reach out, so it's really important to be able to follow up with a customer who leaves a 1 star review due to a lost shipment, or if something didn't fit right."
- Jack Twisse, COO @ Pedal Mafia
Now that they had a review system in place that worked, Pedal Mafia could take things a step further and amplify how reviews tied into the overall shopping experience.
Using Custom Questions To Convert More Customers
When it comes to technical apparel, sizing matters – if something is too tight or too loose, a customer won't be happy. So how do customers gauge this without being able to try something on first? They read reviews. Jack said it's essential for customers to be able to see someone else's measurements, compare it to their own, and then make a decision on what size to order. Without that, customers will just go back to the brand they bought from before.
Pedal Mafia took their reviews to the next level and implemented a combination of Custom Questions to communicate with customers how something fits and how it might fit for them.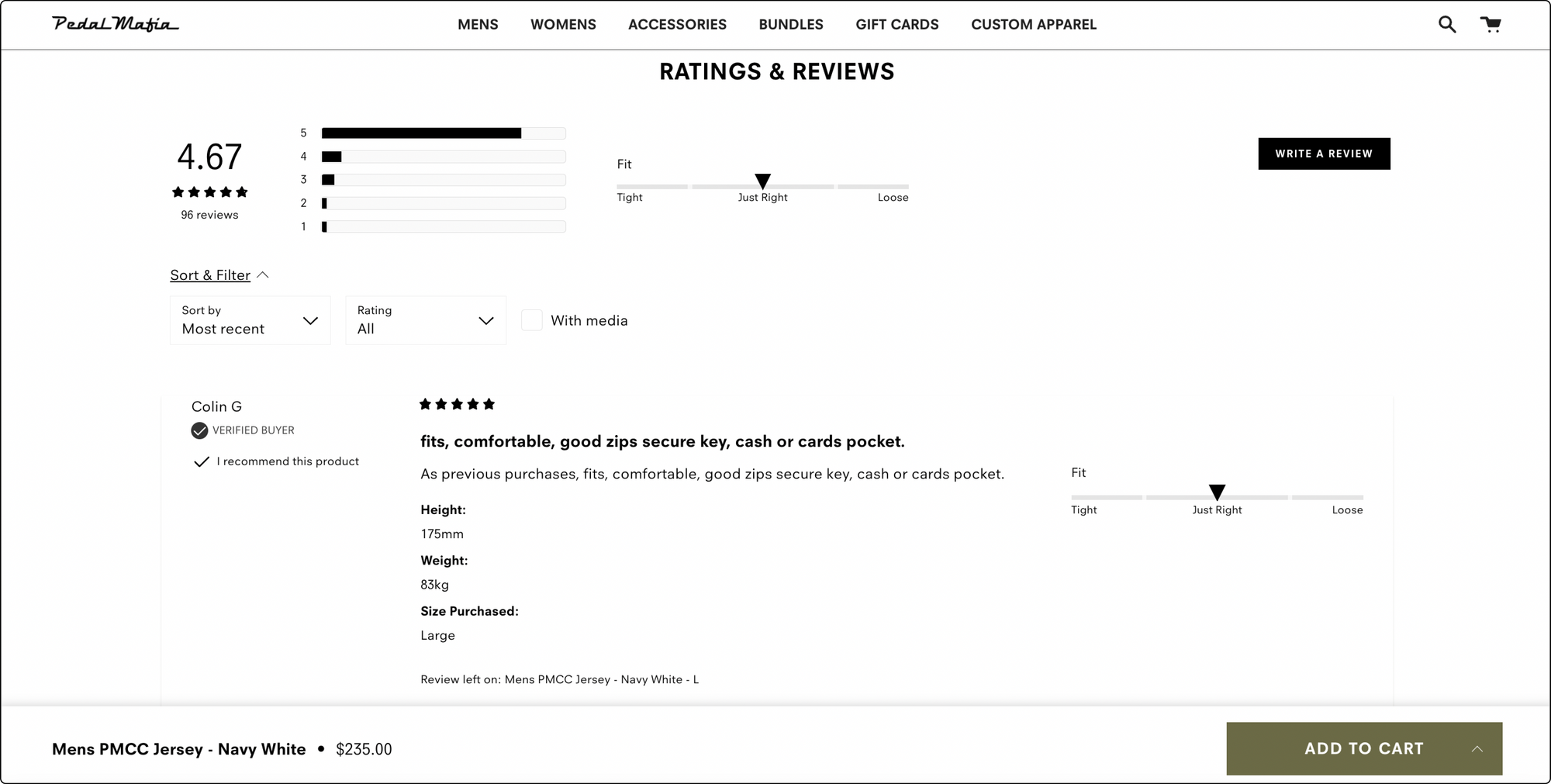 Having this sizing information displayed alongside reviews is such a convincing tool to help customers make a decision and get to checkout. Now that customers could more easily determine their size and trust it would fit just right, Pedal Mafia saw a 29% increase in on-site conversion since adding Junip's displays.
Today
Before Pedal Mafia switched to Junip, they had review requests that were "so ugly" they had to be turned off. With Junip, they could finally start collecting reviews in a way that felt like a seamless extension of their already beautiful brand. With more powerful review collection & management tools, Pedal Mafia has achieved a 4.78 rating across 1,400+ reviews. More simply put, "nothing feels out of place and it all just works like we needed it to" Jack said.
Making the Switch
Junip is focused on one thing - helping brands of all sizes gather more reviews & use them everywhere that matters. If your team wants to make the move, install now for free or reach out here & we can help you plan out your move!
Make the Move
Ready to take your review collection & displays to the next level?
Get a Demo