1 in 4 Reviews for Deux par Deux Have Media Since Moving to Junip

Creating a love of fashion for children and parents
Deux par Deux is a Montreal-based clothing brand with a mission to make clothing parents and children love. Founded in 1986, Deux par Deux designs and produces unique clothing for children from infants to age 12. While their collections have received accolades from the fashion industry for their quality and design, the team at Deux par Deux is focused on winning the hearts of their most important audience—kids.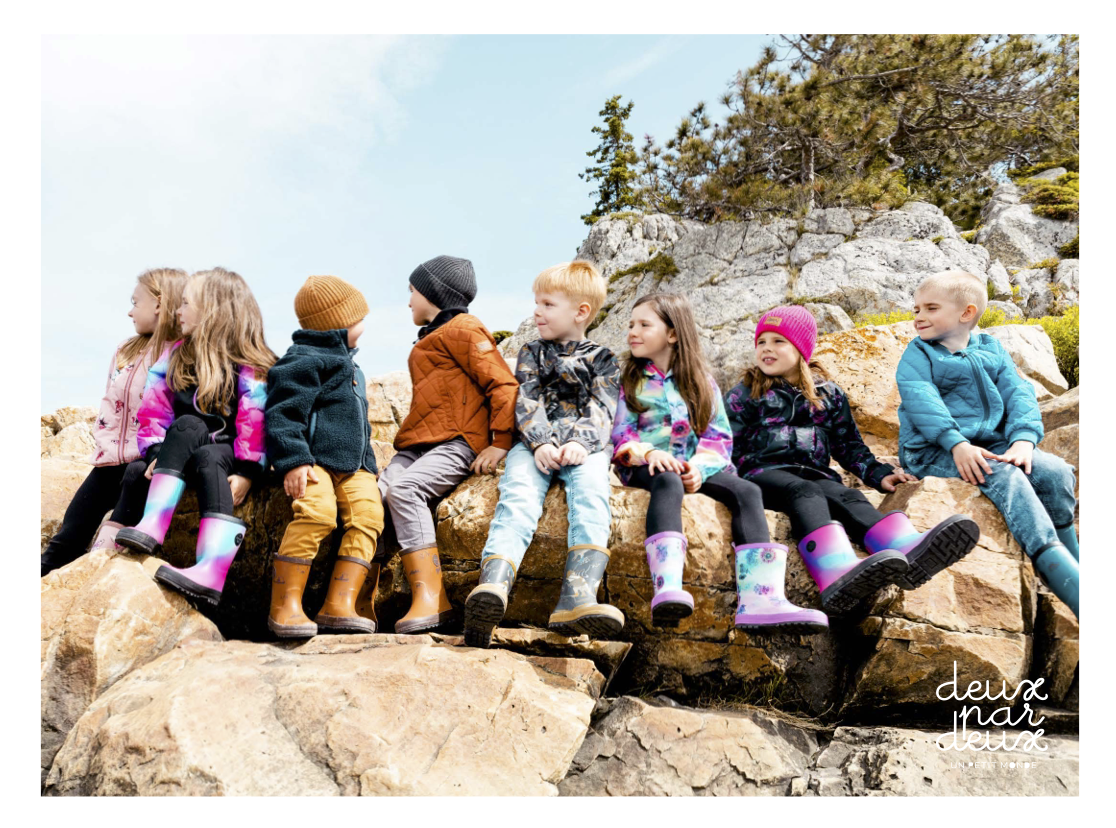 DTC fashion brands like Deux par Deux understand that customers want to know everything they can about an item or outfit before adding it to their cart. Sizing charts, material descriptions, and product photography are must-have resources, but reviews from verified customers can help increase conversion rates by sharing real-world experiences with the clothing.
The Problem
Deux par Deux was previously using Yotpo for their reviews and became frustrated with the long in-email review forms that were hard to use—especially for users on mobile devices. Zacharie Elmaleh, owner & operator at Deux par Deux, said they were struggling with getting customers to leave reviews, including reviews with photos and videos.
"Reviews with media gives the customer a sense of trust. They are better for the overall brand experience, especially for new customers that might not know the brand," Elmaleh said.

Asking customers for reviews is asking for their time. Elmaleh said that the Yotpo review submission flow was not optimized for mobile. He was concerned that it was causing customers to exit the review flow before finishing the review and adding media.
When we look at review data from across our customer stores, almost 80 percent of reviews are submitted from a mobile device. A mobile-optimized review flow is critical to meeting customers when, where, and how they're most likely to review a purchase.
"Mobile is a more emotional purchase than on desktop. For the customers to be able to do this emotional purchase in the most easy and user friendly way, it needs to be flawless, fast, and easy," Elmaleh said.
Another challenge for Deux par Deux was integrating Yotpo into Klaviyo for email marketing. Over 40% of Deux par Deux customers are French speakers, but Yotpo didn't support segmenting reviews by language. Because of this, Deux par Deux had to send bilingual emails, making their review requests even less user-friendly.
"These are our core customers, but we were sending this bilingual email. For Canadian customers, it was okay. But outside of Canada, it was a little bit weird."

Moving to Junip
Elmaleh said that Yopto didn't deliver the expected results, especially for what they were paying for the service. He started researching alternatives, and Junip came up in several DTC blogs.
"I did my research before switching from Yotpo to Junip and explored all the other solutions. In terms of user experience and automating the review collection, the Junip experience was far superior to anything we saw on the market and was specifically designed with mobile in mind," Elmaleh said.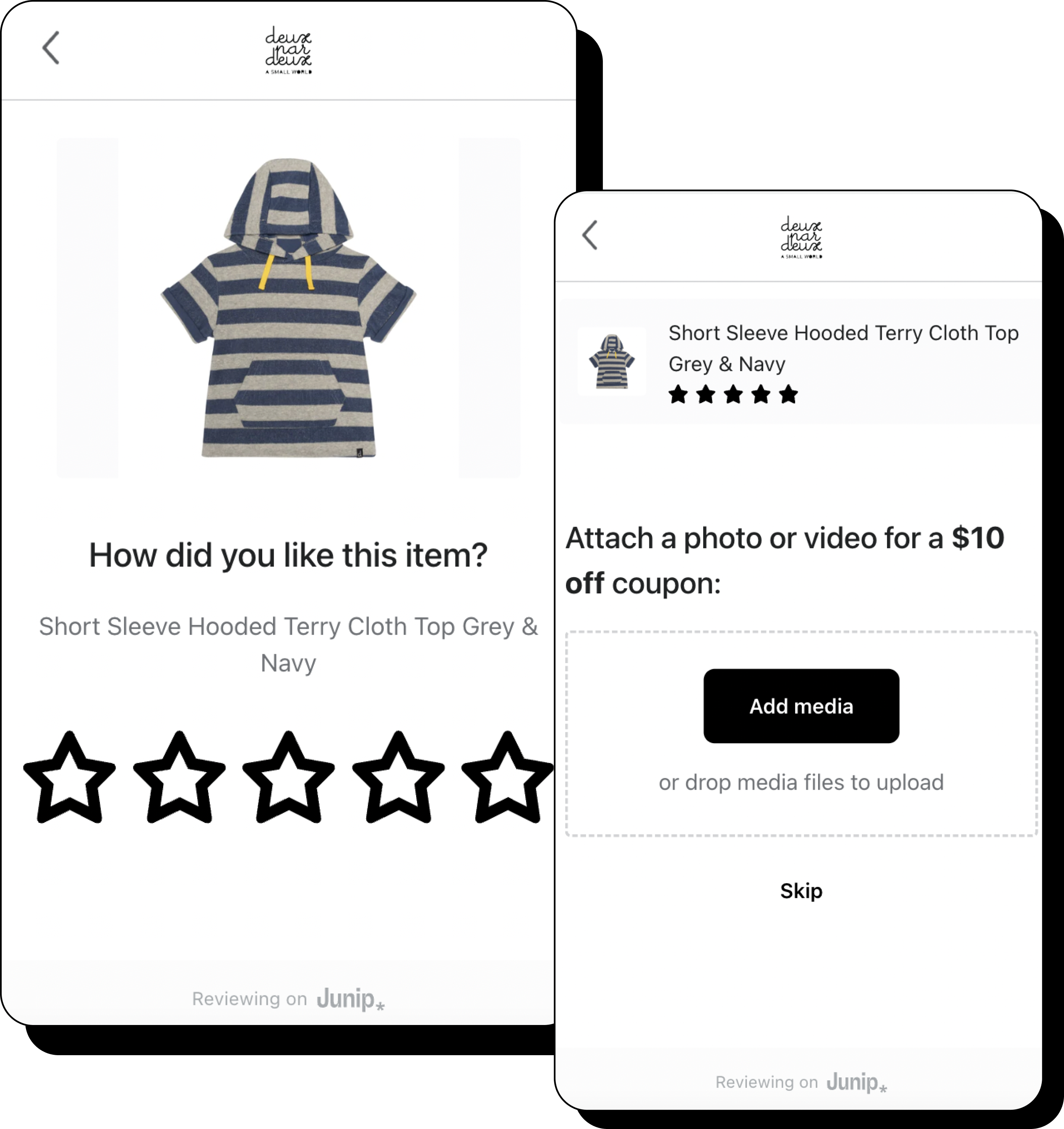 For the move to Junip, our team took care of everything from A to Z to ensure a smooth transition for Deux par Deux. This included importing existing reviews and setting up custom flows in Klaviyo so review requests could finally be segmented based on English and French-speaking customers.
The Results
Deux par Deux switched to Junip in September of 2022. Since then, Elmaleh said the review submission experience has helped the brand dramatically increase the number of reviews collected and the number of reviews with photos and videos.
Collected over 1,500+ reviews with an average star rating of  4.89 across all products.
Went from zero media reviews on Yotpo to over 380 picture & video reviews using Junip—that's 25% of reviews with photos or video!
Deux par Deux's on-site conversion rate jumped from 1.51% to 2.21% since moving to Junip
The ability to segment review requests based on French and English-speaking customers significantly improved their click-through rates too.

Today
Deux par Deux continues expanding its reach through Google Shopping and Amazon. In addition to those channels, they recently launched a mobile app for iOS and Android to focus on mobile-first shopping experiences.
"The mobile experience wasn't there before. Now, the customer can take a photo and add it to the review and submit it—it just needs to be easy for the customer," Elmaleh said.
Make the Move
Ready to take your review collection & displays to the next level?
Get a Demo